Here's the district's next installment of its series introducing the new faculty and staff that have joined our school community during the 2022-23 school year. Today, we introduce Mr. Garren and Mr. Gentile. Both teachers are making an immediate impact on our students' instruction while making our school community stronger! Welcome to the district!
Robert Garren, Computer Science & Home Repairs
Mr. Garren has become a welcome addition to the staff at FFCS. If he seems familiar, it's because he's also a former graduate of our district (Class of 1999). He continues to make a seamless transition to engage with students and is incorporating hands-on technical assistance in both the Computer Science classroom, as well as the FFCS Technology program. Mr. Garren joins our district from the Gloversville Central School District. He earned a Master's Degree in Adolescent Education from The College of Saint Rose and is a proud alumnus of the University of Albany. He is currently teaching Computer Science for grades 7-8 and Home Repairs for the high school (grades 9-12).
"Computer Science is the fastest growing sector of the world economy, and I am proud to be a small part of realizing our students' full potential as they enter the workforce.," said FFCS Computer Science and Home Repairs Teacher Mr. Garren.
Nick Gentile, Regents Chemistry Labs, Community Chemistry, Computer Science and Foundation of Life Sciences
We welcome Mr. Gentile from the great state of Pennsylvania! This marks his fifth year of teaching and he currently is instructing high school students with everything from labs to computer and life science curriculum. He brings with him a wealth of educational experience with a Master's Degree in Secondary Science and Math Education from Slippery Rock University. He obtained his Bachelor of Science in Biology and Pre-Med at Robert Morris University.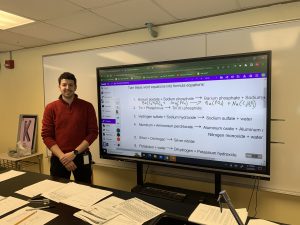 "Being able to share my knowledge in different areas has been great. It's not every day that you get the opportunity to be involved with more traditional sciences as well as computer science, and I'm thrilled to be able to dip into both disciplines every day with students," said FFCS Chemistry, Computer Science, Foundation of Life Sciences, and Regents Chemistry Labs Teacher Mr. Gentile.