Extracurricular clubs and activities continue to play a significant role in allowing students to experience new areas of learning. According to a recent study by the U.S. Census Bureau, which analyzed data from between 1998 and 2020, children are engaging in more extracurricular activities like lessons and sports than they did more than two decades ago.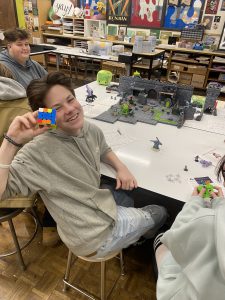 At FFCS, the high school continues to identify new ways to keep students engaged in activities that parallel their daily curriculum. The Level Up Club, which is directed by FFCS High School Art Teacher Mr. Therrien, allows students to just do that while allowing them to tap into their creative outlet and build relationships.
The Level Up Club is composed of three areas of interest:
The first is storytelling through tabletop gaming, primarily with several Dungeons & Dragons groups that bring students together to play the game, build relationships, and increase their ability to create and solve problems. It's a huge success and allows students to switch from their day-to-day classroom activity to the more relaxed format of the club.
The second component allows students to tap into their creative side. Students are encouraged to paint, sculpt and create art pieces of the miniature figures that are used in the games. It gives them a social-emotional space to be creative without grading involved and provides them an outlet to relax and be themselves in a comfortable environment. Many of the figures that are painted are created in-house using 3d printer technology and create a sense of ownership and connection to the characters that are played in the games.
The final area of interest is relationship building. This unique program allows students to come together with a common purpose to expand their interests. On any given day, you can find students from all different backgrounds developing and sharing ideas under one goal – to HAVE FUN and be creative. Throw in additional opportunities to make connections and it's a win-win for the school community. In addition, the club also is a great place to get introduced to other board games, such as chess, Concept, The Mind, Dungeon Mayhem, and other entry-level adventure strategy games. It is a kind of one-stop shop area to unwind from everyday instruction.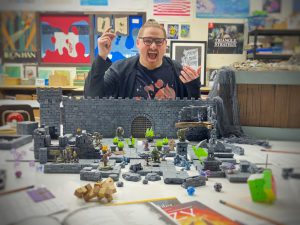 "I've seen confidence continue to build as our students become engaged in the game or whatever creative outlet they want to participate in," said FFCS High School Art Teacher Mr. Therrien. "Students are allowed to tap into their creativity and improve their ability to communicate with one another. It's a great opportunity for our students to learn, grow and become stronger in their respective interests."