Voters approve 2020-21 budget
Fonda-Fultonville Central School District residents approved a $29.8 million budget by a vote of 1,168-283. The vote was conducted by absentee ballot only because of the COVID-19 public health crisis. Votes were tallied on June 16. 
The budget continues existing academic programs but decreases year-to-year spending by -1.62 percent. It calls for $875,000 in cuts, uses $925,000 in fund balance/reserves and a 3.5% tax levy increase. The calculated "tax levy cap" for FFCS is 6.2%. The tax levy cap law only applies to the tax levy (the amount of taxes collected by the district), not to tax rates or individual tax bills.
"The pandemic and its economic impacts have created a lot of uncertainty for everyone. We appreciate that even during these difficult times, our community has come together to show support for their school district," Superintendent of Schools Thomas Ciaccio said. "Everyone is doing their part to preserve the outstanding programs at FFCS and we are incredibly grateful for that."
Learn more about the budget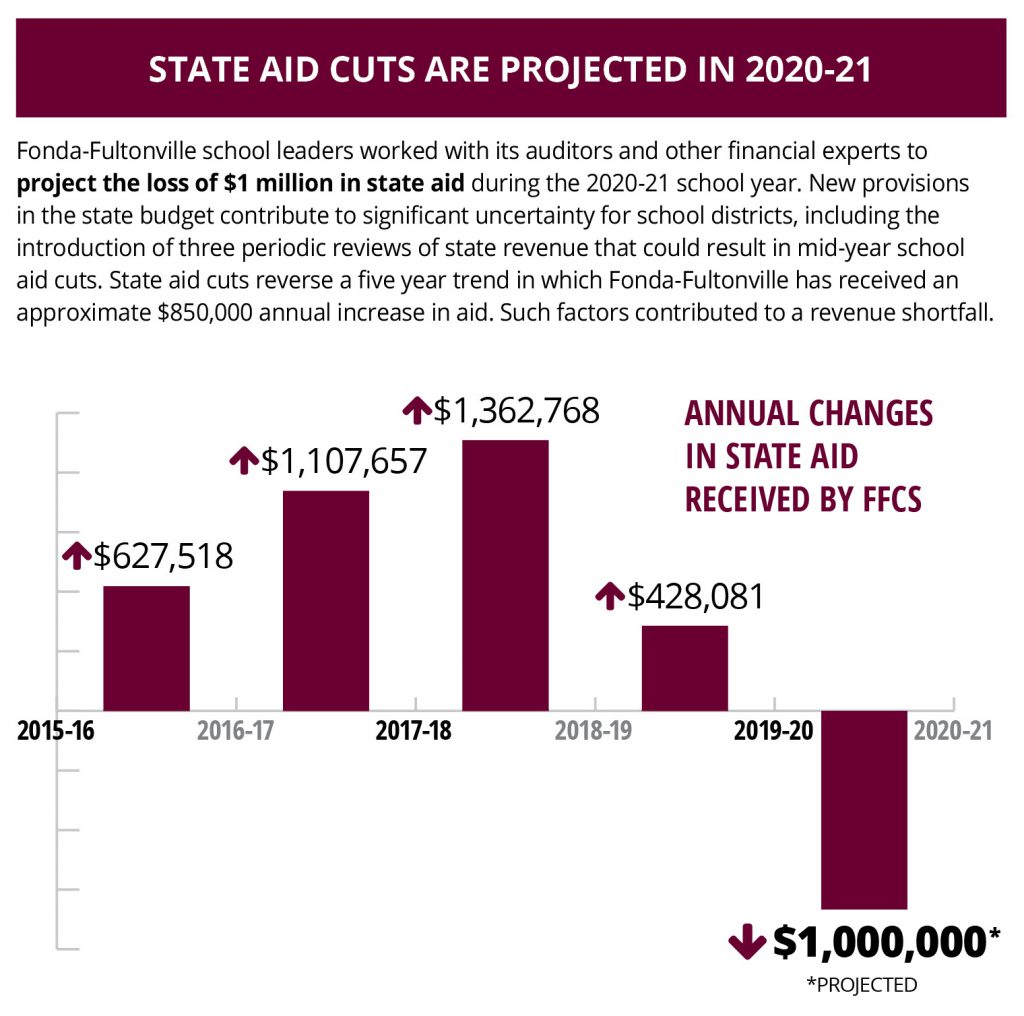 2020-21 Budget Snapshot
Total Budget: $29,847,711
Total Budget Decrease from 2019-20: $1,012,358 or –1.6%
Tax Levy Change from 2019-20: $367,329 or 3.5%
Tax Levy Limit ("Cap"): 6.2%
Use of Reserves: $925,000
Projected State Aid Decrease: $1 million
---
2019-20 Budget Snapshot
Total Budget: $30,339,457
Total Budget Change from 2018-19: $1,012,358 (3.45%)
Tax Levy Change from 2018-19: $155,335 (1.5%)
Tax Levy Limit ("Cap"): 3.89%
Use of Reserves: $484,358
---
Tax Information
Check the status of your tax bill online
If you'd like to check to see if your school tax bill is paid, the Fonda-Fultonville Central School District Tax Bills are now online. Please note that paid information is on a time-delay and is provided for your convenience only.
This link will take you to the Montgomery County Tax Bill Search and View page. When on this page, click on the drop down arrow for school selection list and click on "Fonda/Fultonville School District-Original and Updated Information Available." Enter your search information in any of the categories listed and click on the "Submit" button. The listing of school tax bills will appear according to your search criteria. Click on the tax bill number of the school tax bill you would like to view. To print the viewed tax bill, right click and select print.
More information
---
About School Budgets