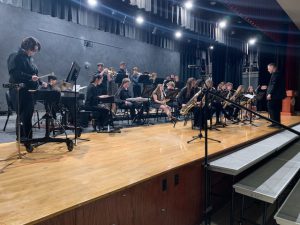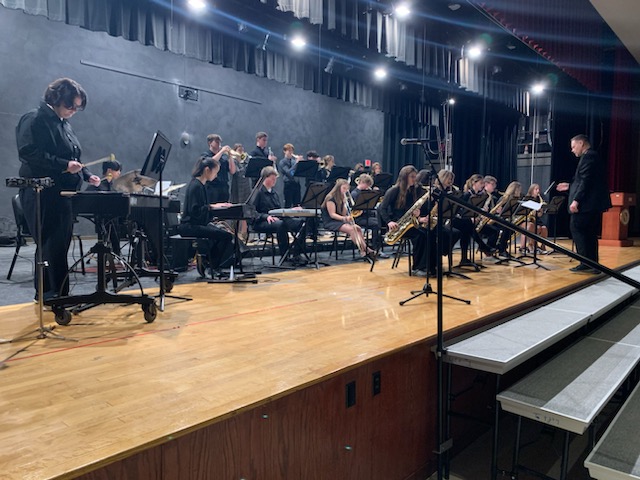 The 2022-23 school year marked the 20th year of the FFCS Jazz Fest concert series. For the 20th anniversary, the Fonda-Fultonville Central School District invited 20 school district bands to participate in this special event. Throughout the day, you could hear the sweet sounds of jazz, contemporary, and big-band musical styles for all to enjoy! You might even think you were attending the New Orleans Jazz Festival with just how good and smooth the bands are playing some of the classics! 
Fonda-Fultonville would like to thank the following school districts for making a significant contribution to today's musical odyssey: Amsterdam Central School District, Mayfield High School, OESJ High School Jazz Ensemble, Perry Junior High Jazz Ensemble, New Hartford High School Jazz Ensemble, Oneida High School Jazz Combo, Scotia-Glenville High School Jazz Ensemble, Saratoga Springs High School Jazz Ensemble, Oneida High School Jazz Ensemble, Schenectady High School Combo I, Schenectady High School Combo II, Gloversville High School Jazz Ensemble, Herkimer High School Jazz Ensemble, Burnt Hills-Ballston Lake High School, Sidney High School Jazz Ensemble, Lasalle Institute Jazz Ensemble, and Averill Park High School.
To celebrate this significant anniversary, we are sharing a behind-the-scenes conversation with FFCS Music Teacher Mr. Lenig. We hope you enjoy it.
Why is music education important in school?
I have many thoughts regarding the importance of music education in public schools. Although my thoughts are congruent with many of the generally accepted thoughts, I also believe that music education provides tools and team structures students use their entire lives. Of course, reading music is a higher-functioning multi-layered skill. It encompasses aspects of both literary and mathematical cognitive skills. In addition, an ensemble member is part of a team. The pieces of an ensemble are interdependent in a way that the sum of the parts is greater than the individual part. Learning to work in a team environment in which you are developing your auditory, literary, mathematical, and visual skills as a team creates a unique environment. This is an environment that fosters members who contribute regardless of individual skill. I believe this is what makes music education so unique and gives students a foundational skill set that they carry throughout the rest of their lives. 
How can students transfer their abilities in music to the classroom?
Music requires more collective concentration to achieve team collaborative execution. The skills translate and enhance almost every other activity that music students participate in. It also enhances the process of developing and fostering a skill that requires practice and time to achieve different levels. 
What does this event mean to you? Any highlights from over the years?
The FFCS Jazz Festival is a defining part of my career. Mr. Kowalczyk and I started the festival in 2003. The festival started as a small six-band afternoon festival. It has now grown to a full-day event culminating in the directors' Big Band performances. There are many highlights from the last 20 years that stand out to me. Here are a few:
2006: The first adjudicators' Combo featuring Brian Patenuade- Tenor Sax, Mike Delprete- Bass, Danny Whelchel-Drums, and Joe Finn- Guitar. This was the first adjudicators' performance at the FFCS Jazz Festival. It was incredible and I still listen to the recordings occasionally. 
2010: The festival grew to 13 bands and it was the first time more than ten groups participated.
2018: 15th Jazz Festival featured 17 schools for the first time and started to become the current festival format with an evening session as well. 
2019: Featured Drummer Sherrie Maricle of the Diva Big Band and the first-ever director of Big Band.
2020: Brought international Guitarist Joe Robison in as an adjudicator.
2023: The 20th Jazz Festival and the largest to date featuring World Famous Saxophonist and arranger Rick Hirsch.
How would you encourage today's students seeking to learn a musical instrument?
I find that students today have both more tools and easy buttons than ever before, as well as more distractions than ever before. I think this can create a dichotomy between the elite students who hyper-focus and the casual students who perhaps progress a little more slowly. My advice is that music is a lifelong journey. Throughout one's journey as a musician, many plateaus will be reached. Some will reach and obtain heights very quickly, others will take a little longer. Consistency and listening are the keys to long-term growth. Listen to great music and musicians. Additionally, put a consistent amount of time into practice. Remember, it is not always the amount of time you practice but the time spent should be high-quality.