Use the links below to view Fonda-Fultonville's Reopening Plan that was submitted to the New York State Department of Education. FFCS will reopen for the 2020-21 school year using the hybrid learning model: View student schedules by grade level | View our back-to-school guides | NYS COVID-19 Data Dashboard
Information about NYS COVID-19 microclusters, color-coded zones and new guidelines for school response (with Q&A)
---
---
---
Teaching and Learning & Student Supports:  Overview | In-person instruction  | Hybrid-modified instruction (including student schedules) | Special Education & Bilingual Education/World Language Programs | Social-Emotional Learning | Advantage After-School Program | Families with Medical Concerns |Transitioning between In-Person and Remote Learning | Grading & Assessments | Attendance | Family Support
---
Health & Safety: Symptoms of COVID-19 & Health Screening | Social Distancing, Face Coverings & PPE | Health Hygiene| Cleaning and Disinfecting | Visitors on campus | Nurse's Office Procedures | Management of Ill Persons/COVID-19 Testing | Contact Tracing & Return to School Protocols
---
---
---
Extracurricular Activities & Athletics
---
---
---
---
Learning safely, in pursuit of excellence
A message from Superintendent Ciaccio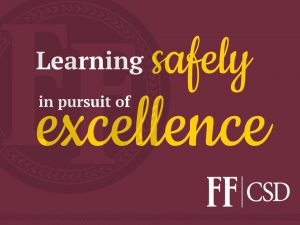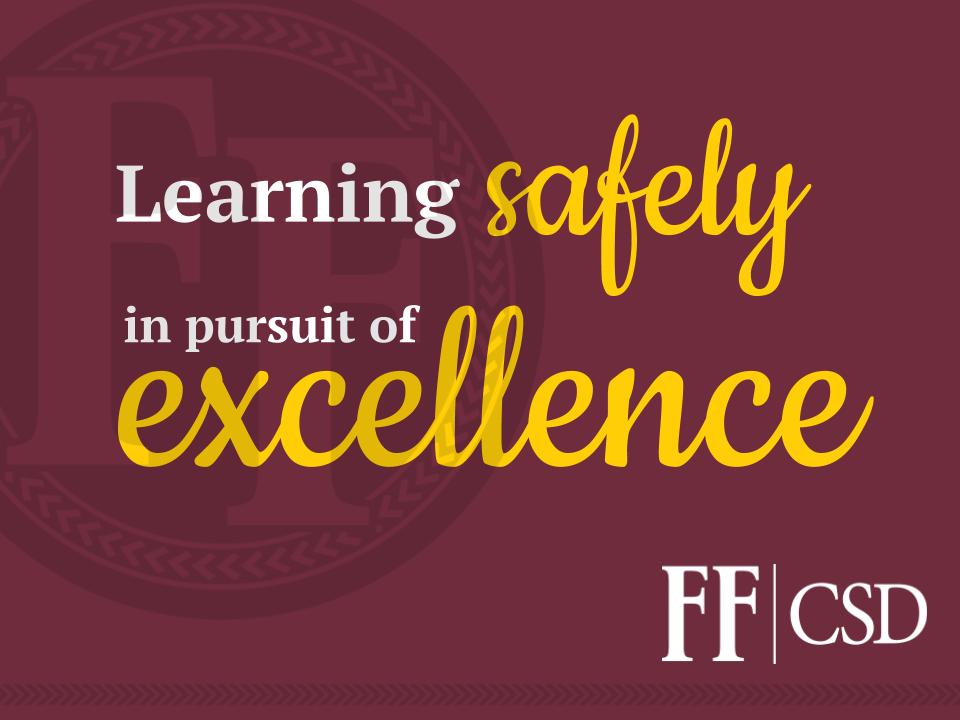 Dear Fonda-Fultonville Families,
We are preparing to embark on a school year like no other. While it may look differently than years past, one thing remains constant: our dedication to our students and community.
COVID-19 has disrupted our learning community, but we want everyone to know we remain committed to our mission. We are committed to the safety and wellness of our students, families and employees. We are committed to instilling confidence in our families by providing safe learning environments. We are committed to instilling confidence in our employees by providing safe working environments. And we are committed to delivering on our promise to empower and challenge every student to become a lifelong learner and responsible citizen.
The health and safety of our students, our staff and their families is our top priority. We want students and employees to feel comfortable and safe returning to school campuses. Our reopening plan incorporates recommendations and guidance from the Centers for Disease Control and Prevention (CDC), the New York State Department of Health (NYSDOH) and the New York State Education Department (NYSED).
Each school district's reopening plans across NYS must include the following potential operating conditions for the 2020-21 school year:
Remote instruction: Buildings are closed and all learning occurs remotely from home.
In-person instruction (including student schedules): Buildings are open. All students are in buildings full-time, with enhanced health and safety measures.
Hybrid-modified instruction (including student schedules): Certain student groups/grades/levels are in classrooms with enhanced health and safety measures while others are fully virtual with remote learning.
Please note, school reopening plans are subject to state approval. It is anticipated the state will review district plans the week of Aug. 1-7. The state then will approve, deny or suggest changes to those plans. It is also anticipated that the state will announce its decision whether to reopen schools to students statewide at that time. Elements of our plan may change based on new information and guidance from the state and health agency partners. We will continue to share relevant updates with our community.
At the heart of our schools is a mission rooted in partnership with our community, and that partnership stands whether school is held remotely or in-person. Know that you can always reach out to us if you need support, and we will do everything we can to help you.
Sincerely,
Thomas Ciaccio
Superintendent of Schools