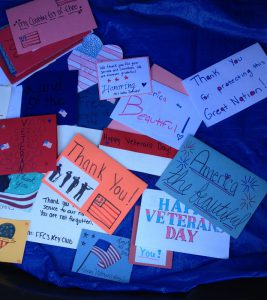 The Fonda-Fultonville Key Club expressed its sincere appreciation to the military veterans residing in the Saint Johnsville Rehabilitation & Nursing Center in honor of Veterans Day.
The club created 48 cards for the 21 veterans who are residents at the center. The cards were delivered to the nursing home earlier this month.
Each card had an unique message from each Key Club member expressing their thanks to the veteran for serving and protecting our country. Although the Key Club members were not able to visit the veterans because of the CDC guidelines, they wanted to be sure that the veterans knew they were being thought of on Veterans Day.
The Fonda-Fultonville Central School Key Club is sponsored by the Gloversville-Johnstown Kiwanis Club.