Congratulations to the inaugural winners of the new Community Cares Award Program at FFCS! Our winners for the first quarter are 1st grader Mackenzie Canallatos, high school math teacher Wendi Waters and district educational technology specialist Danielle Hinrichs. They were each honored in classrooms by Superintendent Thomas Ciaccio as students cheered.
Community Cares is recognition program that acknowledges the exceptional individuals who support our school community and help each other thrive. Students and staff members are nominated by members of our community for their outstanding character and dedication. Three winners are selected from the pool of nominations every quarter.
Each quarter's winners will receive a prize courtesy of the PTSA. We are grateful for their support!  
---
Mackenzie Canallatos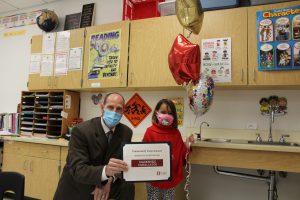 First grader Mackenzie Canallatos received two nominations to highlight a community service project she undertook to support children entering the foster care system.
"For her 6th birthday, Mackenzie decided that in lieu of presents, she wanted to collect items for other kids. She decided to create 'comfort care' packages for children entering the foster-care system. Through the generous donations of friends, classmates, teachers, family, and strangers she was able to make 61 packages. Each package contained a hairbrush, comb, shampoo, conditioner, soap, body-wash, loofah, toothbrush, toothpaste, hair-ties, deodorant, a journal, pen/pencil, stress-ball, and a stuffed bunny to snuggle. On her birthday, she counted all the items that were donated. She calculated how many of each item she would need to make all the bags have the same items in them. She decided she needed 61 of everything. She used money that was donated to do some serious shopping at Target. She smiled all throughout the store as she pushed the red cart through the personal hygiene aisles. Later on, she and her big sister Alexis stuffed 61 draw-string backpack with all the items, making sure to hug each of the stuff bunnies, so when a child received the bag, a hug would be waiting for them. She delivered the packages to agencies in both Montgomery and Fulton counties. She reports this was the 'best birthday ever.'"
---
Wendi Waters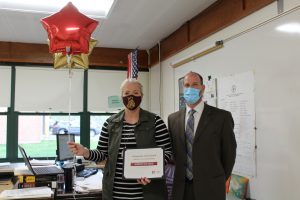 Wendi Waters has been teaching for 23 years. She received two nominations from students and one from a parent in appreciation of her dedication and support.
"Mrs. Waters has gone above and beyond as our calculus teacher this year. She has put so much time and effort into re-learning the curriculum to prepare for her first year teaching the course, and it is evident in her teaching that she has worked incredibly hard to help us learn. Mrs. Waters always listens to her students and takes into account our feedback to make the course run as smoothly as possible for everyone. She is understanding and accommodating, making her class an enjoyable learning experience even with the online schooling format. Her dedication and willingness to go the extra mile is highly appreciated by her students, and she deserves to be recognized for her efforts."
---
Danielle Hinrichs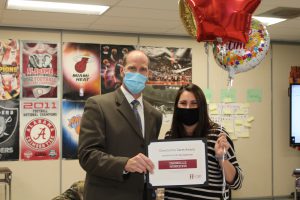 Danielle Hinrichs is the educational technology specialist at FFCS. She supports both teachers and students. In her role, she helps identify, design and effectively incorporate technology plans, tools, and programs into a school's learning environment. Her efforts were recognized as FFCS has increasingly used technology under the hybrid and remote learning models.
"She has provided multiple technology trainings over the summer and the entire first quarter," the nomination says. "She has been willing to meet individually with teachers as many times as it takes to help them with whatever they need. She is always there to listen, give advice, and help us improve our online instruction. She goes above and beyond when something is too hard or requires too much time to create and has provided templates and ready to use activities to help support teachers. She does it all with a smile and a positive attitude!"