The winter athletic season is continuing to heat up! Over the weekend, FFHS Junior Owen Hicks secured his place in Fonda-Fultonville history books by defeating Warrensburg/Bolton's Dante Corriveau in the first period to win the Division 2 145-pound championship at the Section II 2022 State Qualifying Championships in Glens Falls, NY on Saturday, February 12. In addition, the match marked the junior's 100th career win in Section II.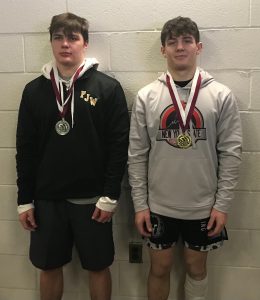 It had been close to 45 years since a Fonda-Fultonville wrestler had won a Section II championship, when FFHS alumnus Bob Phillips secured his championship in the 177 pound weight class in 1977. Hicks is currently ranked #2 in New York State at 145 pounds heading into the state championship weekend. Here's a feature article on Owen Hicks that ran earlier this school year related to his passion for wrestling.
"To be able to achieve the goals that I have had since I was a little kid is amazing, but there is still one more goal left to accomplish," said Hicks. 
Not to be outdone, FFHS Junior Jonathan Cranker earned his place in the state tournament when Glens Falls' Skyler Sturdevant – whom Cranker previously had beaten in an earlier round – had taken third place, which negated a wrestle-off and allowed Cranker to join his teammate Hicks in state competition the weekend of Feb. 25-26.
"Our winter athletic teams are having an excellent season and continue to make positive gains as student-athletes," said FFCS Athletic Director Mr. Wilson. "Our school community is excited to see the level of competition rising and how our students continue to elevate their skill sets, while displaying sportsmanship in their respective sports."
The New York State Public High School Athletic Association (NYSPHSAA) 2022 Wrestling Individual Championships will be held from Friday, February 25 to Saturday, February 26. To learn more and view this year's schedule visit this link.