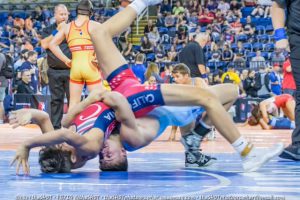 High school students across the nation continue to work to find their place inside and out of the classroom. Whether it's chasing aspirations to attend a two or four-year college, continuing their training to become a tradesperson or finding their footing as an entrepreneur  – – they are locating the pathways to make their next step come to fruition. Here lies the pathway of FFHS junior Owen Hicks. He finds his passion as a student-athlete and is seeking ways to expand his experiences as a wrestler to reach the collegiate level. A dream he continues to pursue and it's taking him to some interesting places across the United States.
Over the summer, Owen Hicks competed in various wrestling tournaments to qualify for the USA Wrestling Greco-Roman National Championships held in Fargo, N.D. As part of that process, he qualified four times in tournaments that took him as far away as Jacksonville, Florida. He wrestled in two specific wrestling styles during his journey to North Dakota: freestyle and Greco-Roman – – both are events contested in the Olympic Games. He placed first at Greco States in Pennsylvania, secured a second place finish at Freestyle States in Pennsylvania, finished third at the Southeast Regionals in Jacksonville, FL and secured a fourth place finish at the Northeast Regionals.
Each tournament competition brought him closer to accomplishing his goal of reaching the USA Wrestling Greco-Roman National Championships, which is the largest Olympic-style wrestling tournament in the world. He currently has plans to build on his competitive experiences and review his collegiate options, while continuing to prepare for the FFCSD 2021-22 wrestling season. With such dedication, we decided to share a few questions with Owen to get his perspective on his passion and how his work ethic will take him to the next level.
How did you become interested in wrestling?
My father had me interested in wrestling at a very young age. He was a wrestler in high school and he is currently the youth wrestling coach here at Fonda. I started wrestling in first grade.
You're taking a unique pathway to becoming a collegiate student-athlete. How did you develop that mindset?
I think I developed that mindset because I have people around me that say I have so much potential. I don't let it get to my head because I know I can always work harder and become a better athlete. The people that have pushed me, and made me a better person, are my family and my coach Joe Uccellini from my Curby Wrestling club.
What are your goals for this year?
I would love to place in the 2022 NYSPHSAA Wrestling Championships, which will hopefully be at the Times Union Center in February. I would also like to qualify again this year to attend Fargo and place in the top 8. I almost achieved that goal, but came up a little short for my first time. I have some more work to do, but I am confident that I can do it.
What's your favorite memory as a student-athlete at FFCSD?
My favorite memory was winning class sectionals in 8th and 9th grade. That led me to being a two-time Section 2 finalist. I was one match away from making it to states.
What advice can you share with your fellow student-athletes as they pursue their future opportunities?
My advice to my fellow student athletes is to train hard, keep your goal in mind and that you can do anything you put your mind to. If you are disciplined enough, you can achieve your dreams. Never give up.