Congratulations to the second quarter winners of the Community Cares Award Program at FFCS! The winners are speech and language pathologist Jill Hulitt, middle school special education teacher Deborah Oertel and high school special education teacher Beth Fagan. They were each honored by Superintendent Thomas Ciaccio.
Community Cares is a recognition program that acknowledges the exceptional individuals who support our school community and help each other thrive. Students and staff members are nominated by members of our community for their outstanding character and dedication. Three winners are selected from the pool of nominations every quarter.
Each quarter's winners receive a prize courtesy of the PTSA. We are grateful for their support!  The prizes include gift certificates to local businesses.
---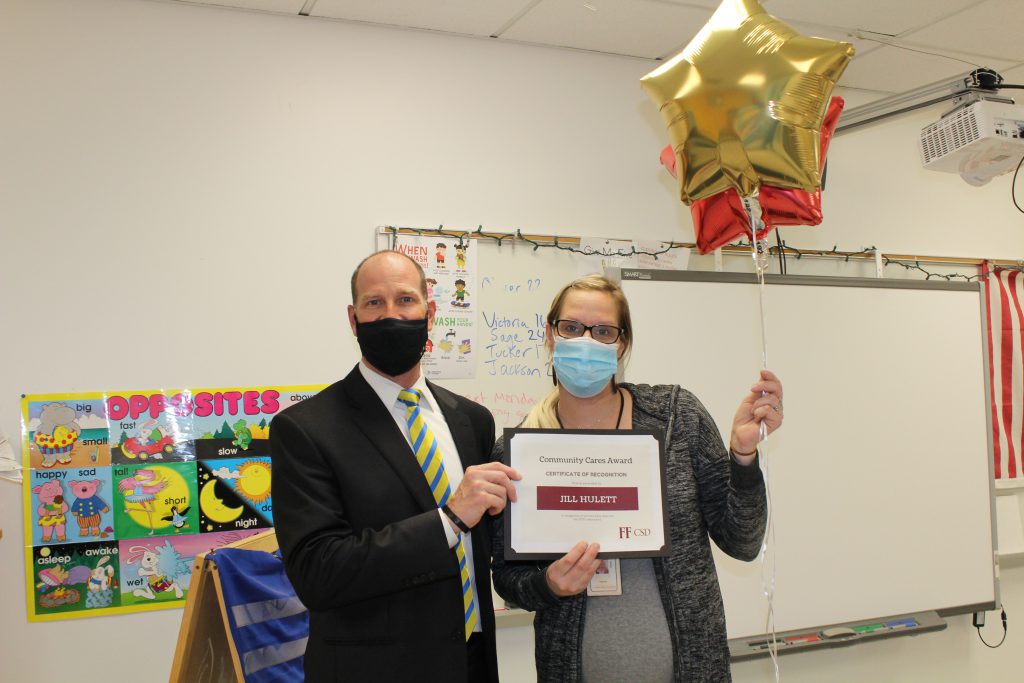 Jill Hulett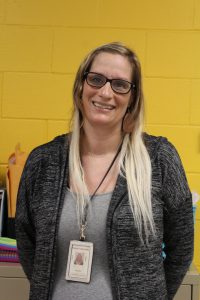 Speech and language pathologist Jill Hulett was nominated by a parent in recognition of her innovative approach and advocacy to support her students.
"Jill is an amazing addition to the FFCS staff, and goes above and beyond her role as a speech pathologist, not only for her students but for their parents as well," the nomination says. "She has been an amazing advocate for my daughter, and so helpful to me especially these last few months with having my daughter recently diagnosed. Jill is always available for questions, and has provided useful information and resources throughout her speech journey.
"Jill stepped up last year to the challenges of how to provide speech therapy through distanced learning, and came up with strategies and games that were not only engaging and fun, but helped keep her from losing all of the progress she made during the school year, and kept her on track to keep reaching for her goals.
"Jill's ability to embrace each child with her positive attitude, her generous encouragement and her dedication will have a lasting impact on every child that walks through the doors to her room. I am forever grateful to Miss Jill, and hope she is chosen to be recognized for this award. She deserves it, and so much more."
---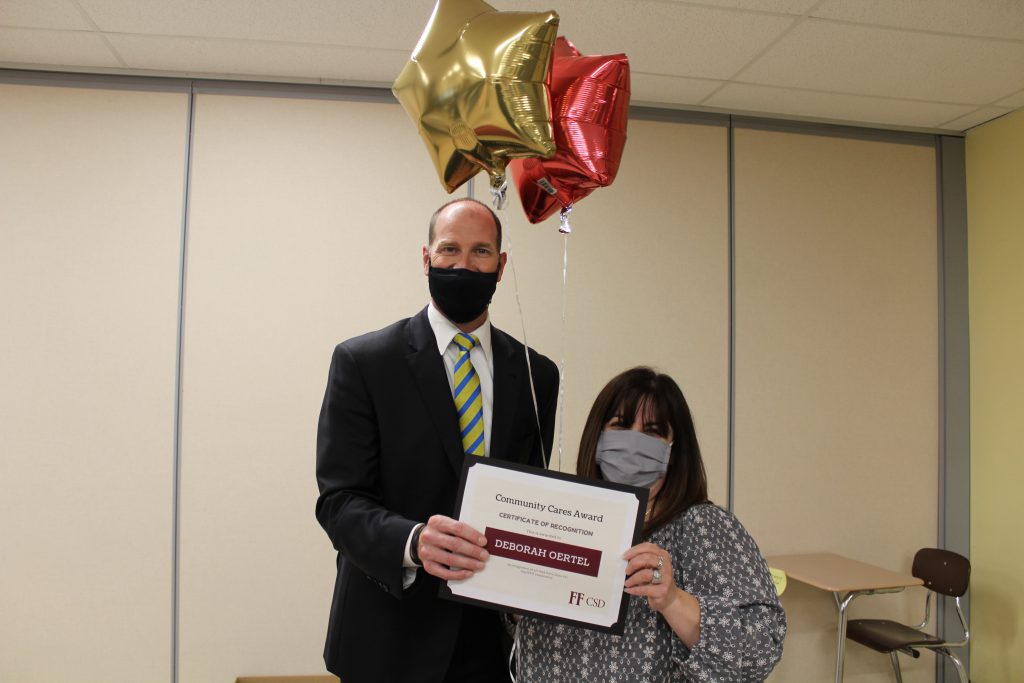 Deborah Oertel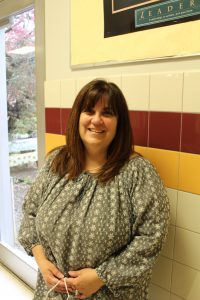 Deborah Oertel is an eighth grade special education teacher. She is also known among the staff for her work in coordinating the district's "Dress Down Days," in which staff members make a donation to a worthy cause each week. Oertel was nominated by a parent in honor of her dedication and caring nature.
"There aren't enough words to describe Mrs. Oertel," the nomination says. "She goes above and beyond to help her students. She goes the extra mile to make her students understand the lesson and breaks the lesson down to their level. She is caring, kind and supportive. She has made herself available long after the school day has ended and on weekends. She is dedicated to her students and truly is concerned for their best interests and academic future. She has a positive attitude that influences her students. She pushes her student to achieve their goals and work harder. If I could I would nominate the entire eighth grade team. The team has the best interests of their students and truly care for them all."
---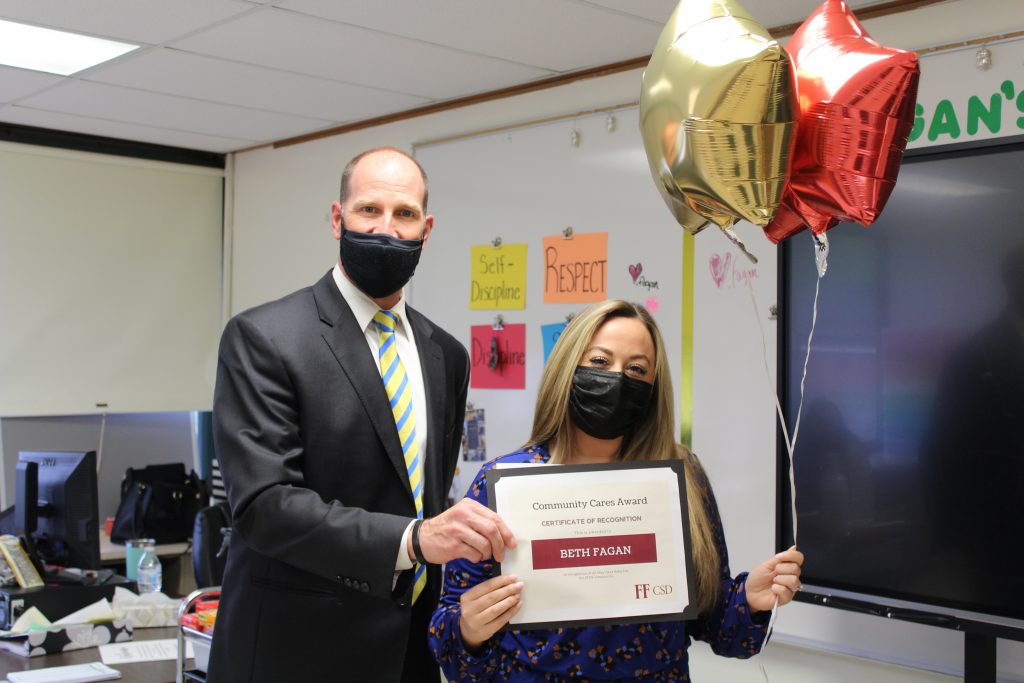 Beth Fagan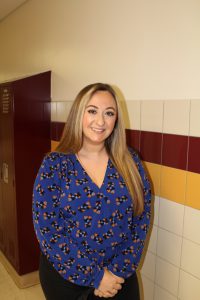 Beth Fagan is a high school special education teacher and also serves as the advisor of the high school theater club. She was nominated by one of her colleagues who sees the impact of her kindness.
"She goes above and beyond her duty," the nomination says. "She cares for students like they are her own kids. She is observant and kind. The world would be a better place if more people were like her."