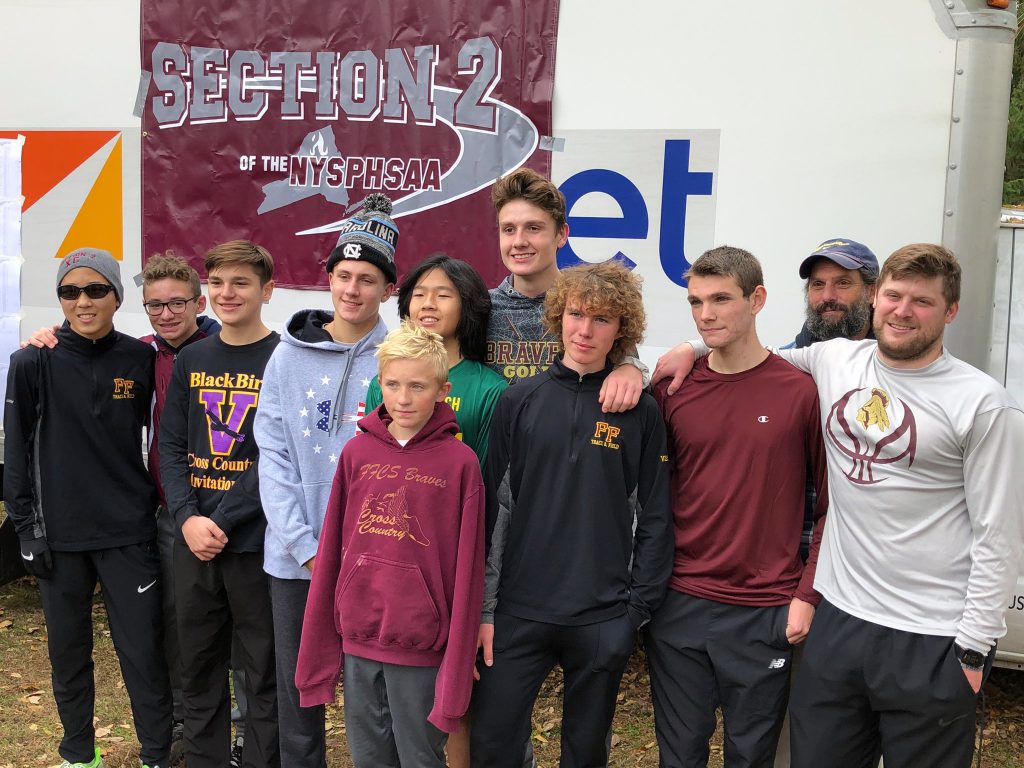 Congratulations to the Boys Cross Country team for earning the Section 2 Class C team title at the cross country championships at Saratoga Spa State Park on Nov. 4. The team includes Trevor Cline, Ty Sanges, Charlie Susi, Matthieu Dettenrieder, Tristan Cline, Bennett Melita, Christian Pearce, Shane Viscosi and Ryan Schopmeier, with coaches Mike Benton and Joe Geniti.
Members of both the boys and girls teams will represent FFCS at the state competition Saturday, Nov. 16 at SUNY Plattsburgh.
Participants will include junior Shane Viscosi, who placed second at sectionals, along with senior Christian Pearce, juniors Haley Clear, Trevor Cline and Charlie Susi, ninth grader Bennett Melita, and eighth graders Mathieu Dettenrieder and Ty Sanges.
Season Highlights
Girls Most Valuable Runner – Haley Clear
Boys Most Valuable Runner – Shane Viscosi
Most Dedicated Runner – Ty Sanges
Most Productive Newcomer – Matthieu Dettenrieder
Most Improved – Bennett Melita & Christian Pearce
Record
Boys  Section II Class C Champions
9-0  WAC dual meet Record
Western Athletic Conference Champions
WAC All Stars
Shane Viscosi
Bennett Melita
Matthieu Dettenrieder
Christian Pearce
Ty Sanges
Haley Clear