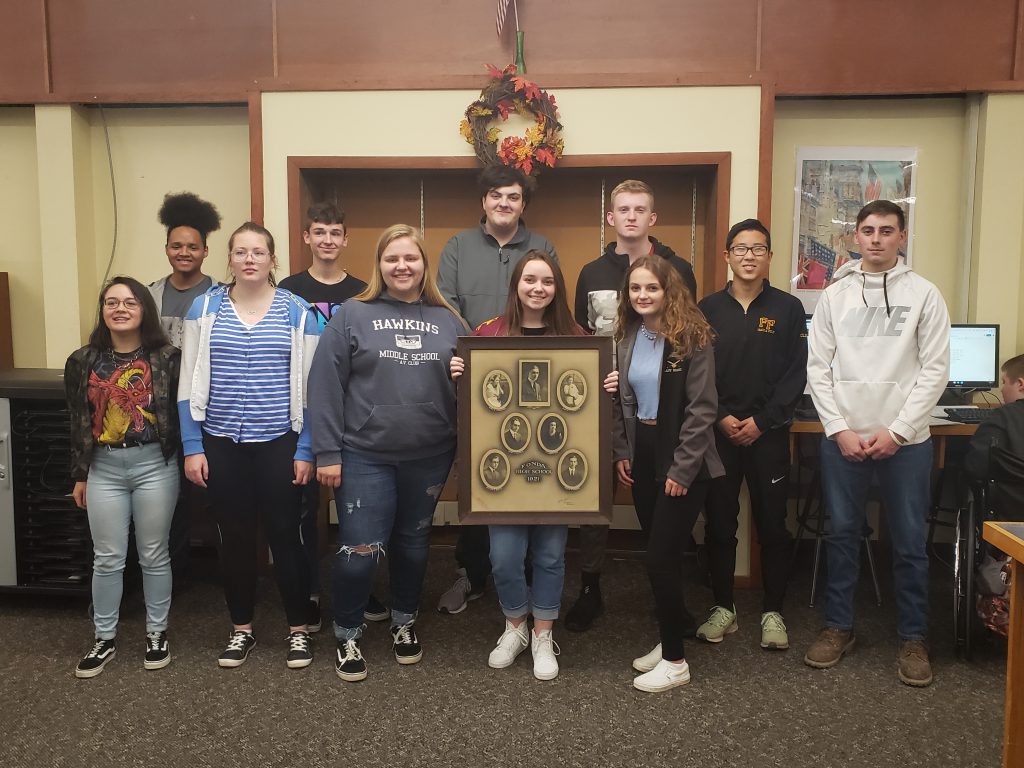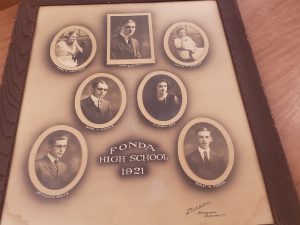 When Fonda-Fultonville High School Principal Aaron Grady found pictures of the Class of '21 in a storage vault the school basement, he knew they were special. 
They weren't photos of the Class of 2021. They were photos of the Class of 1921. There were also photos from the classes of 1897, 1903 and 1922. 
"I recognized the historical value to our school and felt they should be displayed," Grady said.  "Without question, I saw this as an opportunity to create an educational experience."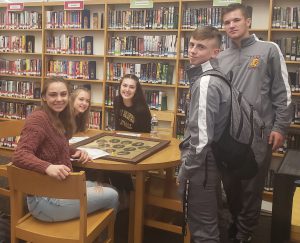 Grady shared the photos with teacher Deidre Palmer, who regularly partners with library media specialist Amber Smith to conduct research projects and activities for Palmer's classes. 
It was an interesting experience for members of the Class of 2021, who had the opportunity to see their predecessors from a hundred years prior. 
Members of the Class of 2021 took a picture with the photo of the Class of 1921. 
"We saw an opportunity to capture 100 years of FFCS history," Smith said. 
Students spent time making observations about the graduating classes, noticing immediately how few students were in a grade level. For example, there were just five graduates in the Class of 1897. Students questioned the class sizes, later understanding why several smaller districts merged into one central district many years later.
Students also briefly worked with Smith to search a popular local research website called Old Fulton NY Postcards to see if they could discover information about any of the graduates. They found an obituary of an alum from the Class of 1897 who passed away in 1916 after an illness. 
Palmer said she hopes to turn the activities into a full-fledged research project for students this spring. They will have the opportunity to tour the Little Red Schoolhouse that's at the entry of the FFCS campus. 
"This is part of a project throughout the year to explore our own district a bit," Palmer said. "The students are very curious about the building and the different additions. As the project continues, students will explore resources in the old schoolhouse to see if they are able to find the building plans they were seeking."