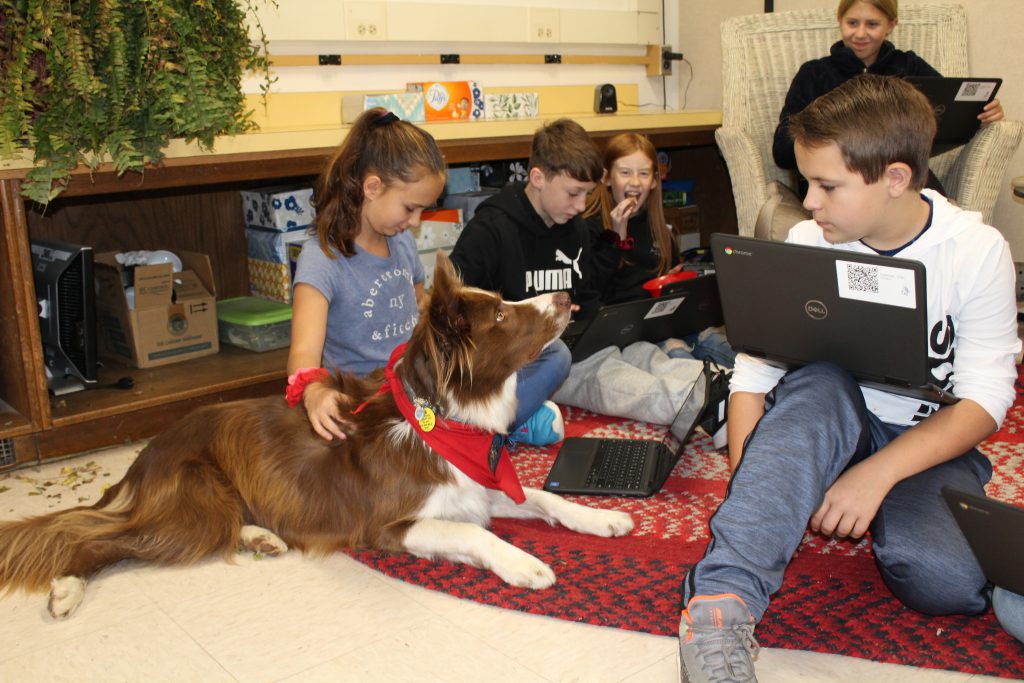 You don't often see middle school students smile during a pop quiz in their math class. But if there was a fluffy dog named Finn smiling back at you in your classroom, how could you not grin from ear-to-ear?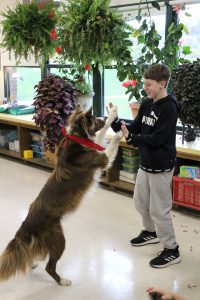 Finn's presence was doing exactly as intended. FFCS is piloting a therapy dog program to motivate and provide emotional support to students. The district welcomes certified therapy dogs Finn and Sadie on select days. 
Finn is handled by middle school math teacher Jim Murray. Finn works with Murray to motivate students in his classroom, and to provide emotional support to students in the elementary and middle schools. 
"If a student is having a counseling session, and maybe they're having a hard time, having Finn there is therapeutic," Murray said. 
Murray's students got to meet Finn recently as an incentive for their academic success. They regularly participate in "Facts for Finn," a timed quiz that tests math facts. The students agreed that being rewarded with a visit by Finn pushes them to work harder. 
"He makes people happy, and helps make us want to study our math facts," sixth grader Contessa Flint said. 
"I really like it, and I feel lucky because not a lot of kids get to have dogs in their classroom," classmate Alexis Neri said. 
Sadie is handled by high school Counselor Ryan Fedele and is stationed in the high school counseling office. Sadie helps provide mental health support to students as they deal with potentially stressful topics in the counseling office, ranging from academic struggles to deciding post-graduation plans. 
"Our therapy dog program is another way for us to support our students," Superintendent Thomas Ciaccio said. "I am amazed at how a four-legged friend can have such a positive impact on the learning process. We are fortunate that Finn and Sadie are Fonda-Fultonville Braves!"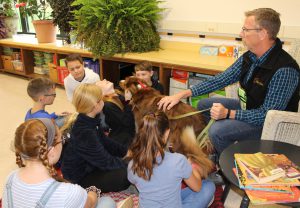 The practice of using therapy dogs in schools for mental health is becoming more widespread. Having man's best friend around can also boost morale for students and staff alike. Research strongly supports the benefits of therapy dogs. They can:
Lower people's blood pressure and stress levels

Improve physical well-being

Decrease anxiety

Dramatically increase positive mood

Ease social isolation and help children learn social skills
Sadie is four years old. Fedele rescued Sadie approximately three years ago after he found her tied up outside of a shop in Connecticut. She was abandoned, sick and malnourished, but she was brought back to good health under Mr. Fedele's care. 
Finn is two years old. He was adopted by Murray as a puppy. Finn is a full-time college student who is involved in SUNY Cobleskill's therapy dog training program. He has come to enjoy celebrity status on the Cobleskill campus.
"Usually when people see me, having been a teacher for 39 years, people are quick to say hi to me," Murray said. "But when I'm with Finn, it's, 'Oh, hi, Finn!' He's all they see."