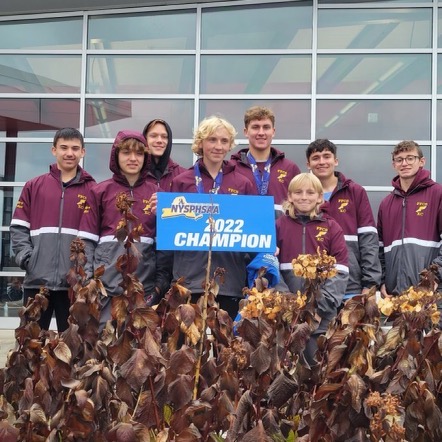 On Saturday, November 12, Fonda-Fultonville senior Bennett Melita secured the district's first statewide cross country title by capturing the Section II Class C cross country championship at the NYSPHSAA 2022 Boys and Girls Cross Country Championships at Vernon-Verona-Sherrill High School (Section III) in Verona, New York. Melita led all runners in competition with a 16:36.6 race time. This is the first time that an FFCS student-athlete has won an individual cross-country state title in school history.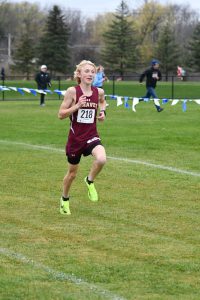 "To watch our son accomplish all that he has in cross country has been nothing short of amazing. As much as we believed in him and his ability, I don't think any of us could have fathomed what this year would look like," said Mr. and Mrs. Melita. "From the very beginning of the season we saw something special. The goals that he set for every meet left us in awe of his  ability, but to see him compete at the state meet and crush his personal goal will be one of our family's greatest memories. As much as his athletic accomplishments are amazing, what makes us even prouder is his hard working and humble attitude. We are blessed to be able to take this amazing journey with Bennett and can't wait to see what his future holds."
For the 2022-23 cross country season, Melita achieved the following accomplishments:
Set a new course record at Fonda-Fultonville (15:48)
Melita also claimed championships at the following events: Fonda Invitational, Adirondack Classic, Grout Invitational (Class C Meet Record) and Burnt Hills Invitational
WAC Champion (2nd consecutive year) & WAC All-star
Section II Class C Individual Champion (2nd consecutive year)
New York State Class C Individual Champion
Section II Sportsmanship Award Winner for Section II Class C

"Bennett has set a new standard for our program. His work ethic is contagious, but what makes him special is the fearlessness that he races with," said FFCS Cross Country Coach Mr. Joseph Geniti. "He has a great support system at home and I am so happy that Bennett and his family were able to share that moment at the state meet last weekend."
With that being said, we took some time to sit down and ask a few questions with the newly crowned New York State Class C Individual Cross Country Champion Bennett Melita. 
What was your thought process heading into this year's cross country season?
After last year's state meet, I knew I wanted to give myself a real shot at the 2022 state title. I decided that I would work as hard as I could to accomplish that goal. I would rely heavily on my coaches and teammates to help push me to that goal. 
Can you explain the training that goes into your preparation for cross country?
You need to start training in the beginning of summer, doing various types of runs. It is not always about long distance in cross country. Training consists of speed work, hills, as well as long runs. 
What type of training do you do with your teammates outside of the traditional season? 
My coach developed a summer distance project for us to follow for the summer. The training program involved logging miles and switching to various types of runs each day. 
What motivates you as a student-athlete? Any suggestions for your peers?  
Results motivate me. Setting a goal and seeing my hard work pay off motivates me. My one piece of advice to my peers would be to remember that hard work beats talent. You don't always have to be the most naturally talented at something, but if you work hard, your goal can be reached. 
Finally, how does it feel to be the first individual cross country champion for Fonda-Fultonville?  
It feels pretty cool, I was proud to represent my school and be able to bring the championship to Fonda. I was especially proud to win for my coaches. Coach Benton and Coach Geniti have always been there for me and without them I would not have accomplished any of it. At the end of the day, I'm just your average kid who gets to do what they love, run.