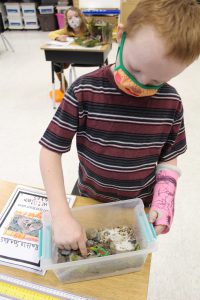 Second graders at Fonda-Fultonville Elementary School brought their learning to life in a hands-on project that got them away from their computer screens during the remote learning portion of their hybrid instruction. The students built dioramas that brought together research, digital literacy and reading and writing skills that they developed during their in-person classes.
Each student picked an animal to learn about and they wrote research papers during their in-person classes. The classes also collaborated with district Educational Technology Specialist Danielle Hinrichs to help students gain digital literacy skills. Our young learners used Chromebooks to create Google Slides and showcase what they learned about the animals.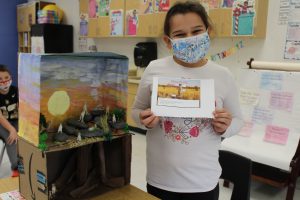 Students then brought their learning to life by creating mini-scale model exhibits of the animals' habitats in gift boxes, shipping containers and shoe boxes.
"It was a great way for the students to learn remotely without having to be in front of their computer screens," second grade teacher Nicole Egan said.
"The projects are always amazing each year, but even more so this year," teacher Linda Hanson said. "The students and their families really rose to the challenge."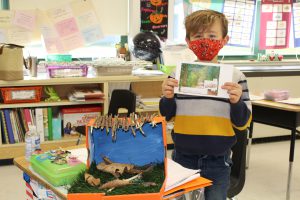 The project connected some students to nature as they gathered materials from their backyards.
"I made a snake out of clay and I got leaves from outside," second grader Easton Egelston said.
Students flexed their creativity by adding clever features to their displays. Student Macie Romell made a chicken coop that is a replica of one she has at home. She cut some of the dimples from a paper egg carton and painted them to look like egg shells from the hatched chicks.
"I also used egg cartons to make food and water bowls for the chicks," she said, pointing to them. "This is real chicken food."
It also gave students the opportunity to showcase their roots and ties to local farms in our agriculture community.
"I know a lot about horses because my aunt has one," second grader Marianna Zemken said.
Students in Mrs. Hanson's class are supported by teaching assistant Teri Brandt, and Mrs. Egan co-teaches with Rachel Murphy.