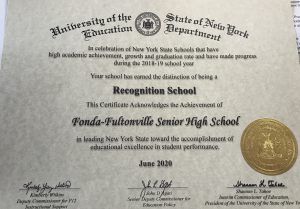 Fonda-Fultonville schools have been named Recognition Schools by the New York State Education Department for the 2019-20 school year.
The district's elementary and high schools earned the distinction. The district received certificates this week from NYSED in commemoration of the achievement. 
Recognition Schools are among those in New York State that have high academic achievement, growth and graduation rate, and have made strong progress during the 2018-19 school year. This year's designees represent 13 percent of New York State public schools.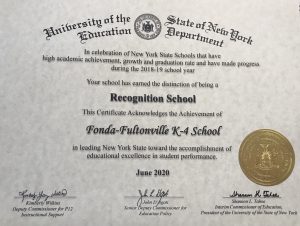 "It is our goal every year to provide a rigorous academic program that keeps expectations high for all students," Superintendent of Schools Thomas Ciaccio said. "This recognition represents the hard work of our staff and students along with the support of our families and community."
"These are exemplary public schools that demonstrate that all students can achieve at high levels with the right supports and resources," Board of Regents Chancellor Betty A. Rosa said. 
"Recognition Schools help to ensure equity for all children across New York State. The Regents and I are grateful to all of the teachers and administrators who, in concerted effort with their school communities, are guiding our students toward success."
"Recognition schools are the highest performing and rapidly improving schools across the state," Interim Commissioner Shannon Tahoe said. "Recognition Schools across the state demonstrate the relentless commitment of teachers, administrators, staff and parents, without whom this growth would not have been possible."