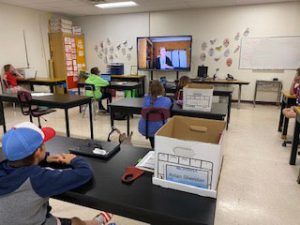 After reading Four Perfect Pebbles as part of their social studies unit on the topic of human rights, fifth graders in Mrs. Mahon and Mrs. Osterhoudt's classes and those in our other middle school classes had the unique opportunity to learn along with Marion Blumenthal, one of the book's author and Holocaust survivor.
"Through our studies, it was clear how empathetic and emotionally invested the students were in learning more about human rights issues and the people who they've impacted throughout history and from around the world," explained Mrs. Mahon.
The virtual conversation held in early June with Marion Blumenthal, who as a child was imprisoned in Nazi Germany along with her mother, father and brother, was full of hope, optimism and positivity. Blumenthal encouraged students to stand up for what they believe in, to not judge others because they are different, to be understanding, and, above all, to be kind.