Proposed budget cuts spending as school leaders project the loss of $1 million in state aid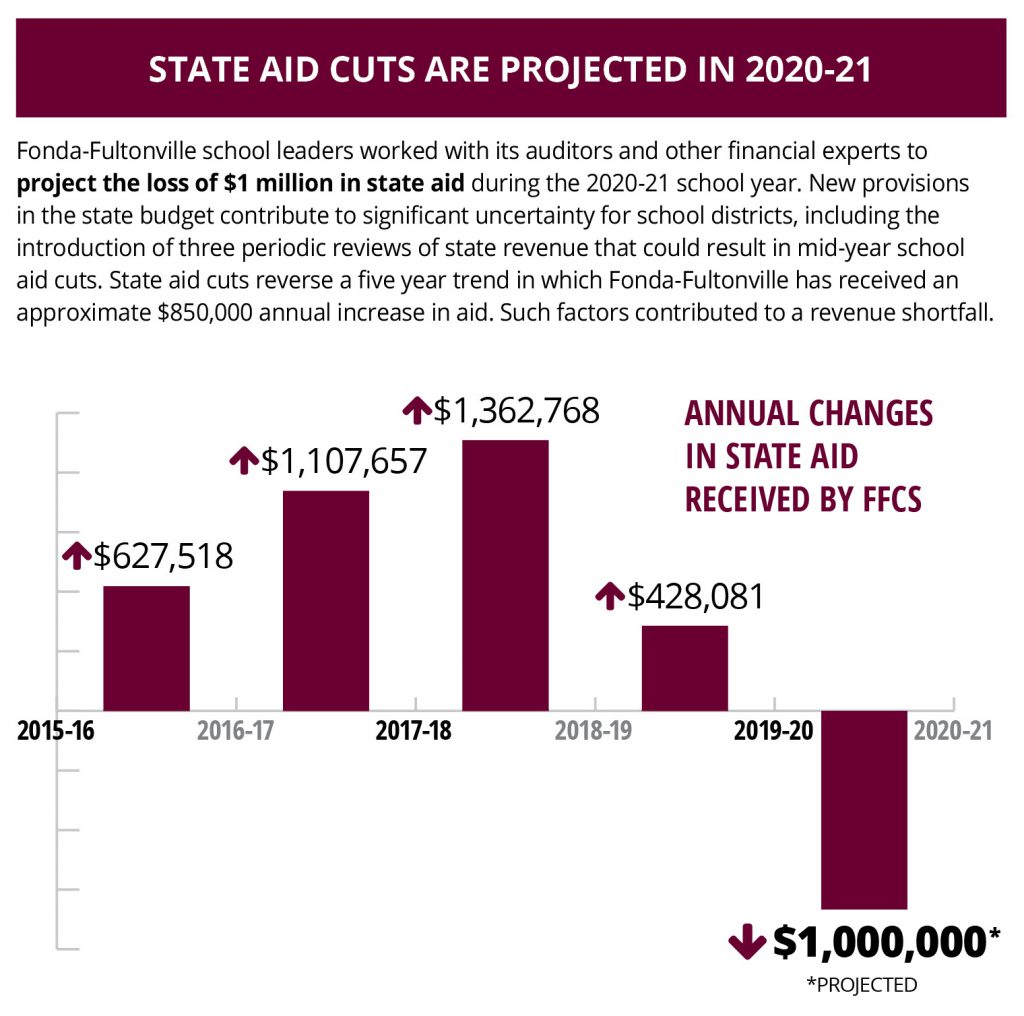 School leaders are projecting the loss of $1 million in state aid during the 2020-21 school year as they anticipate the impact of the New York state budget enacted on April 2. New provisions in the state budget contribute to significant uncertainty for school districts. They include the introduction of three periodic reviews of state revenue that could result in mid-year school aid cuts. There is also a new "Pandemic Adjustment" state aid reduction that is, at least for now, fully offset by federal stimulus funding.
State aid cuts reverse a five year trend in which Fonda-Fultonville has received an approximate $850,000 annual increase in aid.
"The state aid projections for next year are uncertain and represent a challenge for all schools, but even more so for districts like FFCS that rely heavily on state aid for their revenue," Superintendent of Schools Thomas Ciaccio said. "Almost 62% of our budget revenue comes from state aid."
Potential for mid-year aid cuts based on state revenue
The State Division of Budget will evaluate revenues and potentially withhold or adjust aid to localities, including school districts. These periodic reviews will occur three times. This possibility for mid-year aid cuts means that schools may receive even less state funding than was promised in the state budget.
Foundation Aid is flat for 2020-21
Foundation Aid is the primary source of general purpose operating aid for schools. In his executive budget released in January, Gov. Andrew Cuomo proposed a $500 million increase for 2020-21. This was not included in the final agreement, which was negotiated during the COVID-19 pandemic. The impact to FFCS is a decrease of approximately $200,000 that was originally included in the governor's executive budget.
"Pandemic Adjustment" offset by federal stimulus funds, for now
In an effort to deal with the financial challenges brought on by COVID-19, the state budget includes a state aid reduction, the "Pandemic Adjustment" that totals $1.1 billion statewide. The Pandemic Adjustment is similar to the Gap Elimination Adjustment (GEA) that resulted from the Great Recession a decade ago. FFCS lost approximately $11 million in promised state aid from 2010-2017 to the Gap Elimination Adjustment (GEA).
Each district's aid will be reduced by a Pandemic Adjustment figure. The total Pandemic Adjustment figure assigned to FFCS in the 2020-21 school year is $338,080. The enacted state budget calls to use federal stimulus money to cover the Pandemic Adjustment this year. While the federal stimulus offers relief this year, it remains to be seen if and how this will be applied to state funding in future years.
What do these provisions mean for FFCS?
FFCS worked with its financial advisers and other experts to plan for state aid reductions in the amount of $1 million during the 2020-21 school year. This figure represents the difference in foundation aid between the governor's executive budget and final state budget, and the potential aid reduction that may come through mid-year cuts.
"The COVID-19 crisis has shut down the economy across the state. Even with the federal stimulus money, the result of the economic shutdown will drastically impact educational funding," Superintendent Thomas Ciaccio said. "The governor has made it clear that there will be three periods in which school districts could see reductions in state aid. We have to create a budget that takes this uncertainty into account while preserving the integrity of our academic programs, balanced with fiscal responsibility to our taxpayers."
Cuts included in the proposed budget represent staffing reductions, most of which will occur through attrition (retirements that will not be filled), reallocation of transportation resources and reductions in materials and supplies.
PILOT reductions compound revenue issues
Under Payment in Lieu of Taxes (PILOT) agreements with Dollar General and Target for local distribution center projects, FFCS was promised set payments from the companies. However, the payments were at least $215,000 short due to a drastic reduction in assessed value that occurred after the district's 2019-20 budget was completed. The district was not notified of these reassessments, which impact revenue projections for current and future budgets.