The FFCS district has a local connection to this year's Nutcracker production at Proctors Theater, which will run from December 3-4. Fonda-Fultonville Elementary third grader Ellianna Garren will be dancing in this year's production, which will feature a cast of over 100 –  including international ballet stars and local talent.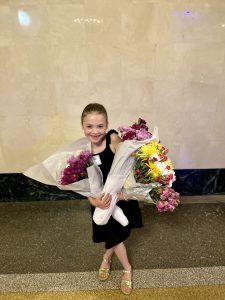 Ms. Garren has been dancing for six years, with her previous performance lessons occurring over the past five years with the Schenectady-based Orlando School of Dance. When Orlando closed its doors after a historic 68 years, she moved to the Capital District Arts Initiative to continue her involvement in the performing arts.
When asked to audition, she accepted the challenge and was eventually selected for the role of one of the mice in the battle scene. "When I first saw The Nutcracker, I was excited at how good they were and I wanted to be just like them," said Ellianna.
Today, we had a chance to share a few questions with the young performer (with some assistance from mom and dad) to see what she thinks of performing live and her excitement for the upcoming holiday season.
What does performing mean to you?
It means getting to show how much I love dancing. 
What's your favorite part about dancing?
My favorite part about dancing is getting to perform after all the practice and when it's finally showtime. 
Are you excited about your Nutcracker role?
I am excited! The mouse is a really fun role because you get the big cheese, and I'm the mouse who steals a present. 
What are you looking forward to this holiday season?
I'm excited about getting to see family. 
Interested in attending this year's performance? Purchasing tickets for this yearly Capital Region tradition can be found here.