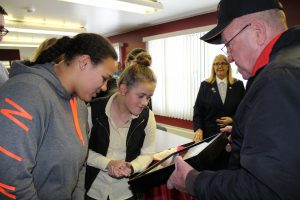 Fonda-Fultonville is a proud participant of Operation Recognition, which recognizes the devotion and sacrifice of World War II, Korean War, and Vietnam-era veterans who left school early. Diplomas can be presented by any NYS public high school, regardless of which high school the veteran attended.
To be eligible, a veteran must meet the following requirements:
Be a New York state resident.
Engaged in active duty service for at least one day during one of the following wartime periods:

World War II: December 7, 1941 – December 31, 1946
Korea: June 27, 1950 – January 31, 1955
Vietnam: May 1, 1961 – April 30, 1975

Received a satisfactory discharge from military service.
Candidates must submit evidence of service. Such documentation may include discharge papers or other such documents or a letter from a recognized veteran agency affirming such service. Candidates do not need to show evidence of attendance at a school in New York state. They need only affirm in writing that they do not possess a high school diploma. Candidates possessing a High School Equivalency (or GED) diploma are eligible for the program. Diplomas may be awarded to next of kin, if eligibility is established.
Community members interested in participating in Operation Recognition through the Fonda-Fultonville Central School District are encouraged to contact the Office of the Superintendent at 853-4415 ext. 8.