As we continue into the 2021-22 school year, the district is introducing articles that highlight the work being done in the district to keep our school community safe. For today, we are sharing an interview with Fonda-Fultonville CSD COVID-19 Coordinator Kristine Dickson.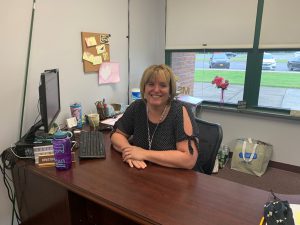 In her role, she works hand-in-hand with school administrators on the processes and guidelines that are recommended by the Centers for Disease Control, American Academy of Pediatrics, New York State Department of Health (NYSDOH) and the New York State Department of Education (NYSED).
Here's our Q&A interview with Ms. Dickson to highlight the work she provides to enable our school community to stay safe during this time.
What's your role in this position at FFCSD?
As the COVID-19 Coordinator for the district, I'm responsible for working closely with school administrators and our local and state health departments to ensure we are closely following COVID-19 protocols on our campus. This entails reviewing updated guidance from the Montgomery County Department of Public Health and corresponding information provided by the New York State Department of Health. In addition, I also participate in the reopening planning operations for the district, while working day-to-day to ensure our school buildings are safe on a daily basis for students, staff and faculty.
The duties assigned to this position also incorporate outreach to families that experience a student(s) testing positive for COVID-19 and for families who have student(s) that need to quarantine during this time. We understand that the procedures can be difficult to understand and we continue to work to alleviate confusion for our families as we navigate through this landscape.
What important items should parents know regarding COVID-19 in today's schools?
Parents should continue to follow the guidelines shared during the 2020-21 school year. We request that students do not attend school if they are feeling ill or experiencing symptoms. We also encourage daily hand washing and the wearing of masks to eliminate the spread and exposure to COVID-19.
There are many procedures to follow during this time, but proper hygiene preparation can help prevent the spread of COVID-19. We encourage families to stay up-to-date on our COVID-19 guidelines by visiting the 2021-22 School Reopening plan which can be accessed here. If you have any questions, please reach out to your students' main office.
At the end of the day, what enables you to be proud of the support you provide at FFCSD?
Being a member of the FFCSD community is important to me. My role is to ensure we are providing the safest environment to keep our school community safe. I take pride in knowing we are following the updated information and resources to ensure a safe learning environment. We are approaching our second year, just like the 2020-21 school year, by determining how our district can excel at keeping our students safe during this time.
Any additional information you would like to provide district families?
We encourage you to sign up with Parent Square to keep up-to-date on news in the district. If you haven't done so already, please take a moment to sign-up and download the app on your phone. Please visit www.parentsquare.com and sign up using the contact information on file with the school district. This platform will allow you to access up-to-date communications on a classroom, building and district level.