Three of Fonda-Fultonville's Odyssey of the Mind teams will advance to the state competition in Binghamton after impressing judges and winning in their respective categories at the regional competition on Saturday, March 10.
Fonda-Fultonville hosted this year's regional competition for the first time, and welcomed 63 teams from 10 schools. More than 1,000 people attended the all-day event, where students used their creativity, resourcefulness, teamwork and communication skills to solve problems through performance skits.
"A very humble thank you to the staff of FFCS," coordinator and middle school teacher Shelly Sanges said. "The competition was a smashing success. Visiting schools were impressed with our facility, kind staff, and our amazing students. Much gratitude to the Buildings & Grounds staff for their many hours of work, as well as several staff members who stuck it out until the very end!"
FFCS had nine teams compete after working hard since October to prepare for this memorable event. Scores of staff members, parents and students volunteered to help make this day possible. Several local businesses, the PTSA, and the Tribes Hill Youth Commission made generous donations.
"Congratulations to all of our teams for the impressive work they did these past few months," Superintendent Thomas Ciaccio said. "Their perseverance, creativity and innovative thinking shined through their performances."
The following teams are heading to states on April 7. We wish you all the best of luck!
'A Stellar Hangout'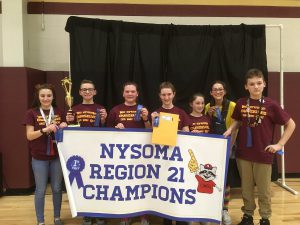 Shey Sanges, Ty Sanges, Delaney Grady, Kaylee Freeman, Olivia Linart, Marissa Thompson and Tyler Couture made up the Division II team that was the best of the best in the "A Stellar Hangout" category.
This team showcased strong acting and set design. Their performance was riddled with puns and humor that engaged the audience.
'Emoji, Speak for Yourself'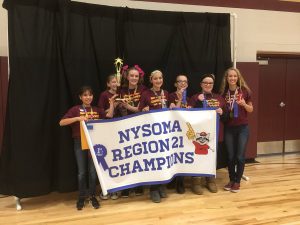 The Division II team of Nadia Buanno, Paige Girard, Catherine Myers, Jaclyn Codi, Troy Fiorillo, Shawna Darrow and their coach senior Allison Codi took top honors in the "Emoji, Speak for Yourself" category.
Their bedroom set design looked real, but it was made from repurposed materials. Their choreography was crafted perfectly with their music.
'Triathlon Travels'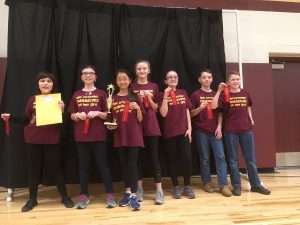 The Division II team of Keira Muselbeck, LeAnn Humphrey, Jordan Chatwin, Illyria Escher, Rachael McNeill, Devin Humphrey and Jake White participated in the "Triathlon Travels" question and earned a wild card finish in second place.
The team created an automated vehicle and their skit had a creative Olympic theme.