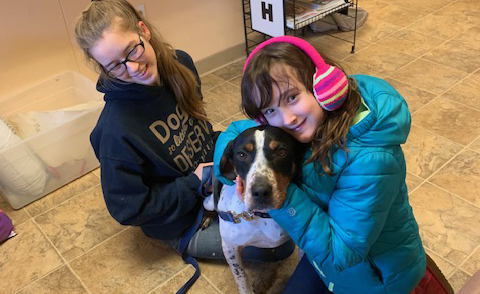 A child's excitement for their birthday celebration tends to focus on cake, balloons and presents. But for Fonda-Fultonville Elementary School third grader Ginger White, she was more excited about wanting to do something to help others.
White recently approached school social worker Melanie Capron about doing a community service project with the school for her birthday. She chose to organize a collection drive to benefit local animal shelters.
"It makes me sad to think about doggies and kitties that don't have homes. I wanted to help them," White said. "I thought my birthday would be a good time to do something for them, and it made me really happy."
White created posters and set up collection sites in the elementary school. She collected donation items for a week in February. On the last day of the drive, her family came in to help her sort and box up the donations. They recently delivered the supplies to the James A. Brennan Memorial Humane Society in Gloversville, the Montgomery County ASPCA in Amsterdam and the Ayres Memorial Animal Shelter in Sprakers.
"They were so thankful to the school for all the donations, and Ginger got to meet some wonderful dogs and cats, which of course she wanted to bring home!" Ginger's mom Diane White said.
"I'm really proud of Ginger for choosing to celebrate her birthday by giving back to the community," elementary school Principal Darcy Williams said. "Our school is focused on helping our students build good character, so we were happy to support her, and to enable other students to give back to the community at the same time."
White continued the good will by accepting additional donations at her birthday party this past weekend. She is expected to deliver them to the Ayres shelter this week.
"Meeting Ginger and seeing her with the couple of dogs she met was one of the highlights of that day," Ayres Asisstant Manager Marissa Christman said. "You could clearly see how much she loved the dogs and how proud she was, which she should have been! We are honored to have been chosen to receive those donations for the animals in our care."