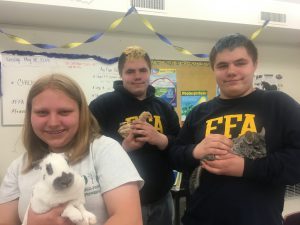 Tuesday, May 21, will be a busy day for FFCS as our school community celebrates our district's agricultural heritage and artistic flair.
The Agricultural Fair will be held from 9 a.m. to 2:30 p.m. at the high school. It's also the date of the annual school budget vote and Board of Education election. For more information, please see our budget news section.
Elementary students have worked have also this spring on a collaborative ocean mural outside the elementary library. The mural and other displays of student artwork were timed to be on display for the Book Fair this week and the budget vote on May 21.
Starting on Earth Day, each class was responsible for learning about an animal, and the students also studied about pollution and its effects on plant and animal life in a coral reef.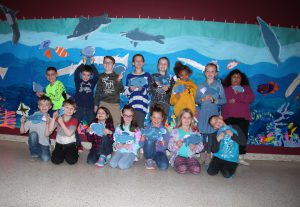 Some of our 4th grade classes helped to make the ocean backdrop and assisted in displaying some of the younger students' work. A few of our classes had to work together as the animals they were assigned were large dolphins, sharks and whales," said Elementary Art Teacher Angela Bermas. "This was a great opportunity for collaboration within the art room as well as creating a school wide display."
The Agricultural Fair is now in its fourth year and organizers say they are expecting more than 500 visitors. About 100 students will be demonstrating a wide range of agriculture-related projects throughout the day. The fair is open to the public beginning at 9 a.m., and elementary classes will be touring it throughout the day.
Ag Science Teacher Sheri Boardman said students have been working hard for about two weeks on their projects, which they selected themselves and researched.
"It can be something they are passionate about or something they are interested in," Boardman said. "There is a huge variety of projects."
Voting on the proposed school budget and school board candidates will be held from noon to 9 p.m., Tuesday, May 21, in the high school auditorium.