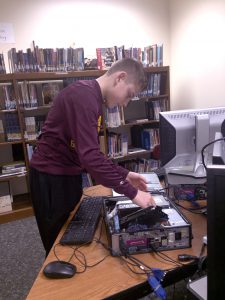 Brady Whipple and Logan Yaggle walked through the doors of the Fonda-Fultonville Technology Department on a Tuesday during their study halls, scanned their Tech Squad badges and wasted no time in getting to work.
The seventh graders checked to see what tickets had been logged into the Help Desk for IT support, grabbed some equipment and headed to the middle school library to setup some desktop computers.
It sounds much like a day on the job for any modern day computer technician, and that's exactly what it's supposed to be like. The Tech Squad is a program that teaches students future-ready skills by giving them the opportunity to problem solve, trouble shoot and learn from each other.
"It's a program that allows students to come in — as long as all of their academic work is as it should be — and do some work with us in the technology department," Network and Systems Coordinator Jarrod Baker said. "They really enjoy it."
By scanning their badges, students can keep track of the work they've done throughout the year. Each task has a points value and those points accumulate.
"Whether that's learning to do something new, fixing a problem that a teacher may have in a classroom, teaching others how to do things or inspecting labs and Chromebooks," Baker said. "We keep adding new ways for them to score points and learn new things."
Cooperative competition
The program provides a little friendly competition for Tech Squad members, many of whom have found their niche in a potential career field.
"We call it cooperative competition. That's the reason we made the points the same for teaching and learning," Baker said. "There's no downside to helping each other out. If there's nothing super urgent and they're looking for something to do, they can teach each other."
Approximately 20 students are involved in the Tech Squad, mostly middle school students.
"This is where they thrive, and we strive to empower them. They get a huge sense of pride when they go into classrooms and make things work when they didn't previously," Baker said.
For Whipple, Tech Squad is an important opportunity that he's grateful to have during the school day.
"For a bunch of my life, I've been more into the tech department type of stuff," Whipple said. "In other years, I had been trying to do robotics, but it kinda got in the way with sports, so this is great because it's during the day."