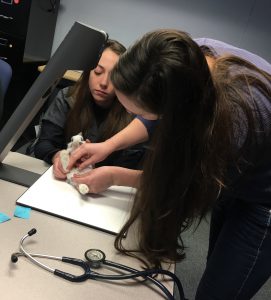 Last week, students in Sheri Boardman's veterinary science class had the opportunity to learn from a local veterinarian and student while examining baby rabbits born in their classroom recently.
Our students learned alongside Granville and Indian Lake's distance learning students, who were able to follow along with guest rabbits in their respective classrooms.
Students learned from Dr. Jessie of Midvale Veterinary Clinic and a veterinary student from Ontario College, who showed them how to conduct a physical exam on a rabbit. They also learned about what it takes to be accepted into a veterinary college, how to gain experience in the field, and what a typical day in the life of a veterinarian is like.