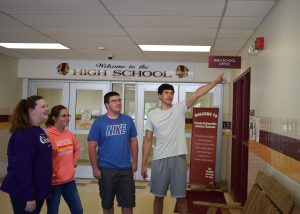 First impressions are important.
The FFCS Superintendent's Student Cabinet understands this, and the students in the cabinet have been working this year on ways to improve the first impressions of visitors entering through the various main entrances.
The Superintendent's Student Cabinet met last week with FFCS principals to present their plans to beautify the main entrances. The cabinet consists of two students each from grades 8 through 12 who meet monthly. The cabinet, according to Superintendent Tom Ciaccio, has two main goals for students – to build leadership skills and encourage them to find ways to give back to the school community.
"They have done some great things here, trying to benefit their school community," Ciaccio said of their effort to envision more welcoming entryways.
Part of their focus involves seeing the school through the eyes of a newcomer.
"The entrances of the school are the first thing that people see when they walk in, so we want them to be presentable and exciting for the people who come into our school who have never been here before," said 9th grade student Shey Sanges.
But the project isn't just about first impressions. It's also about making the school a comfortable place for more frequent visitors.
"It's important for the people who walk into the school to feel welcome and feel like they belong here, just as much as the students do when they walk in," said 10th grade student Malcolm Kosiba.
There are also benefits for the students who pass through the doorways every school day. It's about building FFCS's sense of identity and pride, according to 11th grade student Jacob Belfance.
"We're going to put Brave Characteristics up on the walls. We're going to do some more logos, we're going to do some benches. It's about enhancing our school and the characteristics that we believe in," Belfance said. "It keeps the mindset of why we are here and what our goal is in front of the students."
As far as the Superintendent's Student Cabinet itself goes, the students say it has been a great experience.
"It's very fun. We get to interact with other students and brainstorm at the same time to improve our school," 9th grade student Delaney Grady said.