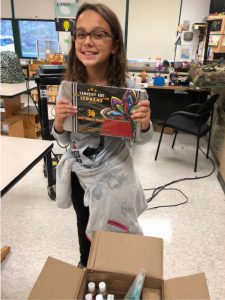 Fonda-Fultonville Elementary School student Karina DeMallie won the Sargent Art company's "A Brighter World" art contest.  Submissions were received from all over the United States.
Winning entries were selected for various levels. DeMallie was selected as the elementary-level winner for her artwork of a bull dog inspired by artist Dean Russo. DeMallie has received over $200 worth of art supplies from Sargent Art, and the FFCS elementary art program received over $300 worth of art supplies from Sargent.
"I'm very proud of Karina, and thankful to her and Sargent for the extra supplies!" art teacher Kathleen Hallam-Bushek said.