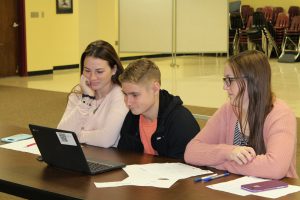 Four students in the college-level Spanish course at Fonda-Fultonville High School had a bilingual video chat with peers at a school in Spain on Tuesday.
Juniors Amanda Clifford, Gabe Mormile, Madison Field and Abby Lombardoni had one-on-one video chats with four students at Montjuic Girona International School in Girona, Spain. Students spoke in both Spanish and English to ask each other about their studies, hobbies, world views, likes and dislikes. 
"This was a really cool experience. I like to speak Spanish and hope to travel to Puerto Rico someday," Lombardoni said.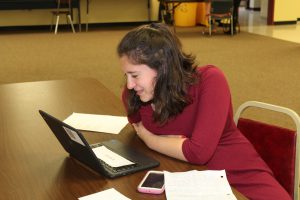 Spanish teacher Gwen Rossi said it was a good opportunity for her students to practice their Spanish, connect with people across the globe and learn about international culture. Rossi worked with FFCS Technology Education Specialist Danielle Knabe to coordinate the technical requirements.
The opportunity was made possible through the high school Skype Club, which hosted a previous video chat for club members with the school in Girona. Club adviser and high school history teacher Sean Thompson connected Rossi to Girona teacher Nathalie Galindo. Galindo had asked to set up a bilingual video chat for her students.