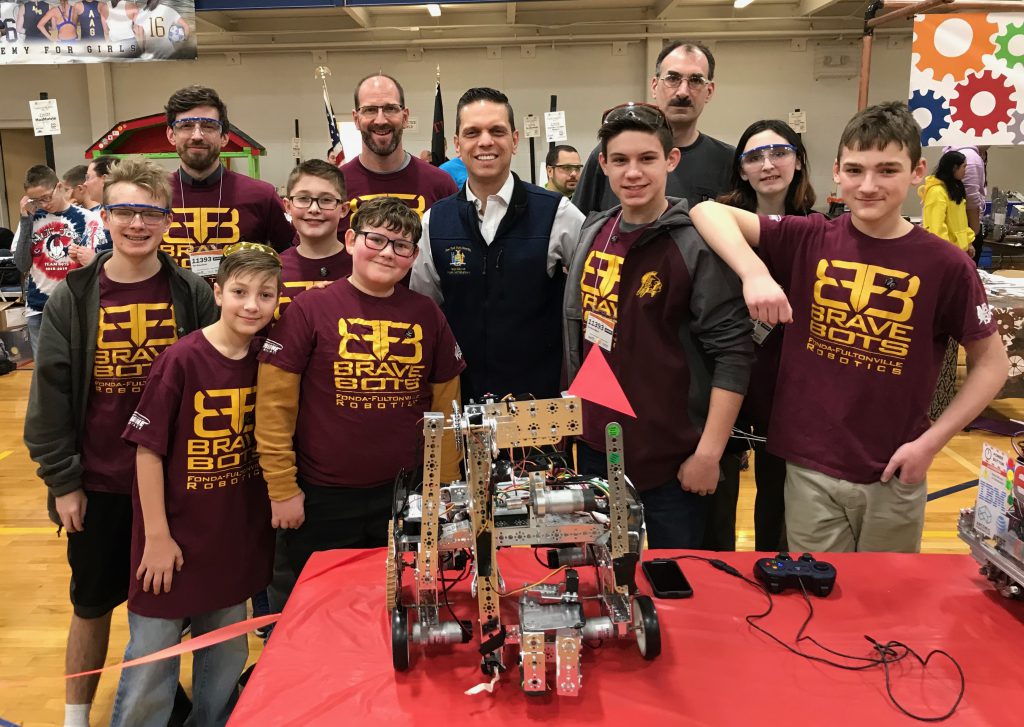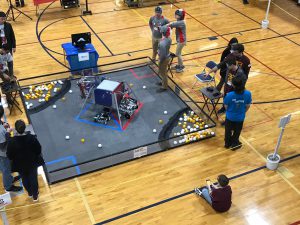 Congratulations to the Brave Bots, Fonda-Fultonville's robotics team for an impressive performance at the FIRST Tech Challenge regional tournament held at the Albany Academies on Jan. 19. After working together since September to design, construct and code an industrial robot, the team made it to the semifinal round for the first time in its history of competing. The Brave Bots finished sixth out of 16 teams.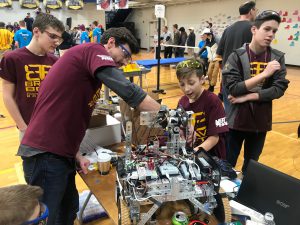 Coached by FFCS Network Systems Administrator Jarrod Baker, the team is made up of sophomores Michaela Castle and Ethan Clark, eighth graders Tyler Couture and Logan Yaggle, and sixth graders Avery Griffin, Jeremy Hebert, Logan LaPlant, Ethan Painter and Markus Swiderski. Castle's father, Quentin Castle is the team's community mentor.
"It was our best performance to date," Baker said. "Every year, we do a little better. I'm very proud of our team. The students work really hard and it showed at the competition."
FIRST Tech Challenge is a national robotics competition for students in grades 7–12. More than 5,000 teams are expected to participate across the U.S. this season. Students design and build a robot using aluminum, polycarbonate, motors and servos, sensors and a variety of other materials. They program and control it using Android Smartphones with Java or a Blocks-based graphical language.
Each year teams are challenged with a new game. They compete at tournaments, where teams play a series of matches, each time being partnered with a different team. 
The Brave Bots excelled through five qualifying matches to the semifinals. Baker credited the team's success in part to Michaela Castle, the team's "go-to coder." Thanks to her skills, the Brave Bots robot was able to participate in an autonomous period during the competition. Baker described it as a 30-second time period in which the robot has to complete a series of tasks while being on "autopilot," so no one can control the robot. It moves exclusively on computer coding that Castle was able to successfully write. 
"Completing the autonomous period was another first for us, and it was huge in terms of getting us points to keep advancing through the competition," Baker said.