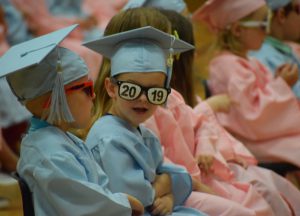 Their education may have just begun, but the 2019 Pre-K graduates paraded with poise as they finished their first year at Fonda-Fultonville CSD.
The 54 students received their Pre-K "diplomas" in front of more than 300 of their family
members on Thursday, June 20. Some were a little nervous at first, but once they started singing songs and performing, they warmed up to the crowd, according to Pre-K teacher Kristen Wieczenski.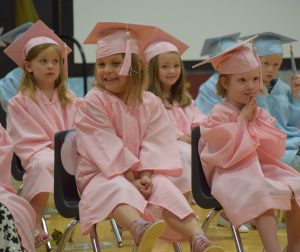 Throughout the ceremony, students could be seen picking out a family member and smiling.
"It went wonderful today, the really did a great job considering for many of them it was their first time performing," Wieczenski said.
Pre-K is a year that is defined by growth.
"They grow in all ways. Physically – they have gotten taller, more mature looking. Socially – they know how to be kind to one another. Academically – they are more than ready for kindergarten. They know their letters and sounds, they can count to 20, they know their shapes," Wieczenski said. "They are much more confident than when they started."