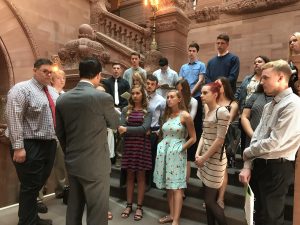 On Wednesday, May 9, Mary Brown's college-level Participation in Government class took a trip to the New York Capitol to experience first-hand how state government functions.
During the trip, students were given a tour of the Hall of Governors, which displays portraits of New York's elected leaders. Another memorable part of the tour was the Capitol's War Room. In this space, students viewed large murals that honor American soldiers lost during wartime.
The end of the formal tour led the class to the Great Western Staircase, where senior Adam DeSorbo posed questions to state Sen. George Amedore on behalf of the class. All questions were researched, composed and chosen by the students, as they came from persuasive letters the students had written to New York politicians earlier this semester. Topics included ethics reform, nuclear energy and climate change.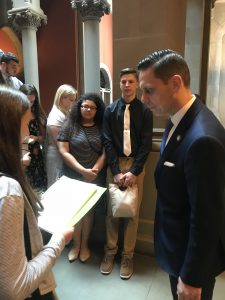 Students were later able to sit in the Assembly Chamber while senior Alyson Shirley asked questions of Assemblyman Angelo Santabarbara. Students said it a great way to see how our state government functions and how it affects daily lives.
The trip concluded with the class touring the grounds around the Capitol. Senior Nicholas Demitraszek led the class to the Corning Tower observatory, where students were able to view the whole of Albany and beyond from the 47th floor. This provided a view of the Capital Region, which gave students a new perspective and a very memorable experience.