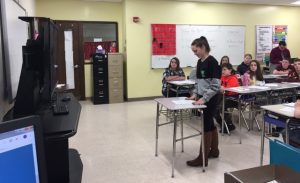 Seventh graders in Jaime Linart's Life Science classroom had the opportunity to video chat with research assistants from SUNY College of Environmental Science and Forestry on Monday, Jan. 28. Students spoke to the research team about their ongoing efforts to restore the American Chestnut tree to the forests of the Eastern US. The research team is using the process of genetic engineering to make this happen.
Linart said the students have been learning about how the process of genetic engineering works, some of the potential and present day uses for the process, such as for producing mass quantities of medicines like insulin, gene therapy, the production of GMO foods and for de-extinction.
To prepare for the video chat, students watched a TEDxTalk on the American chestnut restoration project, and read an article describing how the researchers are almost ready to be approved to start planning transgenic trees in the wild.
Students asked the researchers about why they got involved with the project, the process by which they were able to transfer genes into the transgenic trees, and what other organisms they felt could be "brought back" using similar technology.
Learn more about their efforts by visiting www.acf.org and https://www.esf.edu/chestnut/.