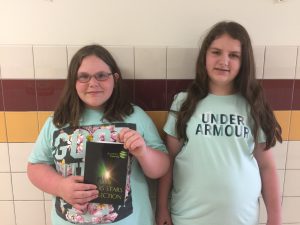 Fonda-Fultonville Central School District is proud to congratulate two middle school students who were recently recognized for their exemplary writing abilities.
Stephanie Calkins became a published author; her poem "Stars" was published in the 2018 Rising Stars Collection. Elizabeth Vosburgh won Betz, Rossi, Bellinger and Stewart Family Funeral Homes' Memorial Day essay contest entitled, "What the word 'veteran' means to me." She received a cash prize for her efforts.
Both students say writing activities in the classroom have led them to enjoy writing in their spare time as a creative outlet. Their teacher Ann Mahon regularly encourages them to take advantage of opportunities to earn recognition for their writing, such as the poetry contest that Calkins entered.
"I really like poetry, especially after we made poem books in fourth grade," Calkins said. "I had been going through a lot so I kept writing poems, and I saw the contest so I decided to enter. It was really exciting for me to win because I knew it would be published and everyone can see it."
Vosburgh said a family member told her about the Memorial Day essay contest after seeing it on social media. They thought of her because she had done so well writing a previous essay for her science class. The contest was open to local students in grades 5-12.
"It was exciting because I have never won anything before," Vosburgh said. "My uncle was in the army so it means a lot to me. I really like writing."