The Fonda-Fultonville Middle School 8th Grade Celebration and End of Year Assembly on Tuesday, June 25 brought together the middle school for a final "hooray" before students participated in their carnival.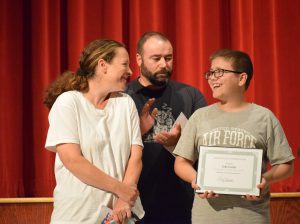 Not only was the event a chance to recognize students for a wide range of accomplishments, it also was an opportunity to celebrate parents and students together for a number of awards.
In addition, three retirees were recognized – Mrs. Bushek with 30 years of service; Ms. Carnevale with 30 years of services; and Mrs. Petoff with 24 year of service.
"This is over 84 years of service that you have given to the kids, your colleagues, the parents, and the FFCS community. You have touched the minds and hearts of generations of students, colleagues and parents and for that we are forever grateful," Middle School Principal David Zadoorian said.
The ceremony also provided an opportunity for the Middle School to reflect on the now-completed school year. Here are some highlights:
Our Jr. Jazz Band Received 1st Place for the fifth year in a row at the Sherburne Pageant of Bands Competition.
Our drama club presented the play ¨Cinderella¨
Our Recycling Club Donated more than $450 from bottle returns to local needs and charities
Students devised their own lesson plans and taught third grade students how to use the microscope in lab
MS Band Received a score of 86% at the Sherburne Pageant of Bands Competition
Our Christmas Cheer organization provided hundreds of gifts to needy families for the holidays
162 students were recognized for exceptional character at our reward activities
Our Yellow Roses club Helped raise $1,700 for the Relay for Life while participating in the relay
Raised money for girls' education and donated to malalafund.org
Held the first annual 4th grade Transition Day
Decorated the girls' bathrooms with inspiring quotes
We hosted for the 2nd year in a row the regional OM competition and competed like champions
Skyped with authors and invite special guests to read to students on world read aloud day
76 students served as student mentors in the elementary school
Students were honored for participation in Legislative Art Show
Many of our students participated in extracurricular athletics and clubs competing at the local, regional and state level
Some of our girls got to explore the Tech Savvy Summit field trip
We took field trips to special places and some of our staff brought their therapy dogs to spend the day with us!
About 30 percent of students each marking period earned perfect attendance and a Brave's Badge and 14 students had perfect attendance for the whole year.
Congratulations to all of our students!