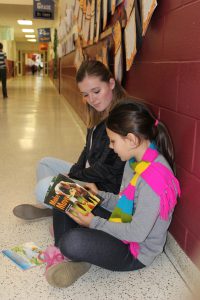 On a Tuesday in teacher Marci Carey's first-grade classroom, high school senior Rebecca Sweetman sat at a table with three first graders and helped them with their assignments. Students had to color an animal and use adjectives to describe what it looked like.
When asked what she would name hers, without hesitation, first grader Abigail Gamble looked up adoringly at Sweetman and said, "I'm going to name mine Miss Rebecca."
That's how the first graders affectionately refer to Sweetman, who helps out in Carey's classroom every day as part of the Fonda-Fultonville Mentoring Program. As mentors, a group of high schoolers get the opportunity to spend their study halls in elementary and middle school classrooms. They help younger students during reading and writing workshops.
"Miss Rebecca is so nice and she helps me with my reading," first grader Aleeah Spraker said.
Connections and career exposure
The program has multiple benefits for everyone involved. It connects students across school buildings, mentors get the opportunity to inspire younger students, and they get the added benefit of earning community service credit. To earn a comprehensive Regents diploma, Fonda-Fultonville graduates must complete 300 hours of community service.
The greatest benefit of the mentoring program is that mentors get a glimpse into potential careers in education. Some of the mentors say the time they have spent in classrooms has shown them what it would be like to be a teacher, which is valuable as they consider their post-graduation plans.
Sweetman said she aspires to be a social worker.
"The experience that mentoring has provided will help me better understand what it's like working with young children," she said. "My favorite part is making the children smile and laugh as often as possible but to be able to help them focus and complete the task at hand."
Senior Kelsi Whipple said she has a couple of career aspirations that she's considering, including positions in law enforcement and social welfare.
"I really have an interest in helping children," Whipple said. "I want to be a state trooper, but I know it's good for me to consider other options, so this program has been really beneficial to me."
"The experience has taught me a lot about how children learn, which has really changed since I was in elementary school," Whipple continued.
Whipple has enjoyed being a mentor so much that she gave up her lunch period so she could mentor in both Jamie McRedmond and Teresa Santos' classes. (Don't fear, Whipple said she eats lunch on the bus to HFM BOCES, where she is enrolled in the Criminal Justice program.)
"Kelsi is doing an excellent job. She has a great rapport with my students and they truly enjoy having her come into our classroom every day," McRedmond said.
Inspiring readers and writers
Mentors spend one-on-one time or small group time with younger students and concentrate on reading and writing to support the district's literacy program.
"In the elementary school, teachers will have the mentors help during literacy stations and writer's workshops," high school counselor Emily Miller said. She coordinates the mentoring program. "The mentors will help the students with their writing, spelling and vocabulary."
Teachers say their students love spending time with the high school mentors, and it engages the younger students in their studies.
"Two to three students ask if they can read with Kelsi each day," McRedmond said. "I typically have her read with students that need extra support in reading, but I also allow her to read with advanced readers because they need enrichment as well!"
"When Rebecca comes in, I notice some students will want to move their seats so they can sit closer to her," Carey said. "They definitely look up to her."
The best evidence of the love the students have for their mentors? The number of children from another class who stopped to hug Whipple in a hallway as they walked back from outdoor recess.
"I like working with the children, and I like helping the teachers," Whipple said.