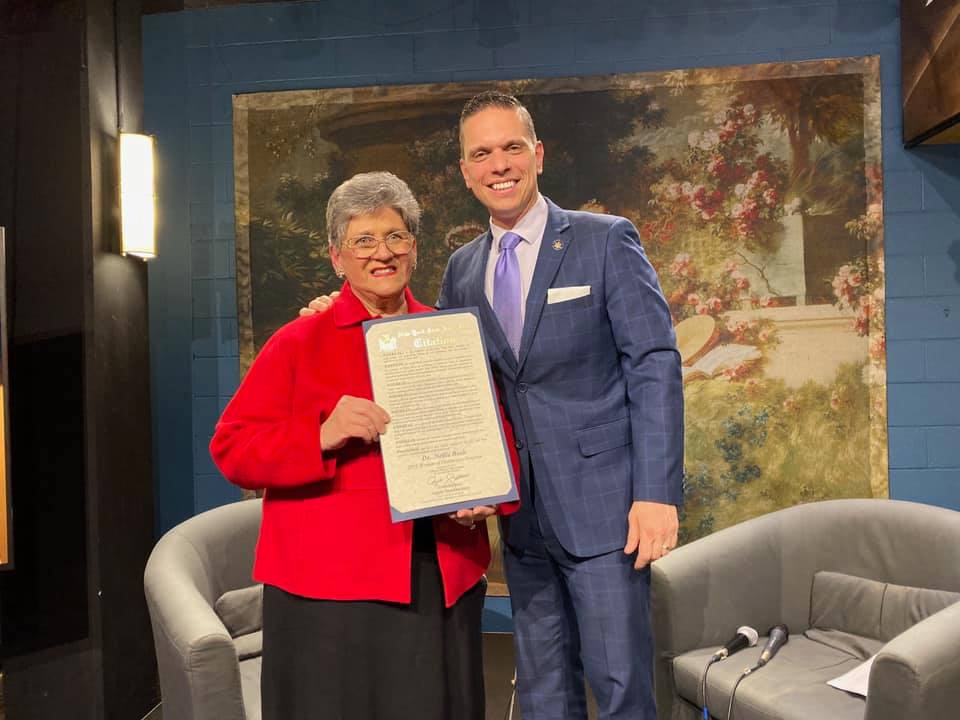 Fonda-Fultonville Central School District is proud to recognize interim Elementary School Principal Dr. Nellie A. Bush. She was designated as a New York State Assembly Woman of Distinction by Assemblyman Angelo Santabarbara. The award celebrates the achievements of women in our community.
"The remarkable women who make a difference throughout our region deserve to be recognized for their contributions," said Assemblyman Angelo Santabarbara. "This year's Women of Distinction Awards honor outstanding women who are doing their part to make our community and even better place for all of us."
This year's awards featured a special LIVE STREAM television segment on a special set of Open Stage Media on the stage at Robb Alley in Proctors, downtown Schenectady. The broadcast will also air on Public Access CH16 and On-Demand at OpenStageMedia.org throughout the month of December.
This special live-stream public access show was entirely dedicated to this year's New York State Assembly's Women of Distinction Honorees with a live audience filled with family, friends and community. During the broadcast, in-depth interviews with each honoree shared their personal stories, inspiration, outstanding contributions and service to our community that has made a difference in people's lives.
Dr. Bush has an illustrious career in education with more than four decades of experience. She has been serving as the interim elementary school principal since August. She has previously served as the interim principal of both the Fonda-Fultonville middle and high schools.
Dr. Bush served as an elementary school principal for 15 years, 13 of which were spent at the Tecler Elementary School and the Tecler Diagnostic Center, teaching children younger than the age of five with disabilities.
Dr. Bush also served as the committee chair for Preschoolers With a Disability for the Greater Amsterdam School District and the director of Special Education and Pupil Services. She was appointed assistant superintendent for Curriculum and Instruction K-12, personnel director and data coordinator.
Dr. Bush also worked as an adjunct professor at the College of Saint Rose. She retired after 43 years, guided by her motto: "Show me so I can see; tell me so I can hear; involve me so I can understand."
Dr. Bush received a master's in special education from the College of Saint Rose. She earned her certificate of advanced study in educational administration and policy studies from SUNY Albany and her doctorate in education leadership from Nova Southeastern University.
Dr. Bush has been a member of the Greater Amsterdam School District Board of Education for nine years and board president for seven. She has also served as an interim administrator in the Schalmont Central School District.
She is a patron of the Walter Elwood Museum, member of St. Mary's Hospital Auxiliary, trustee of St. Mary's Roman Catholic Church and serves as a Eucharistic minister. Dr. Bush is a lifelong resident of Amsterdam. She and her husband, Leonard, have three children and five grandchildren.