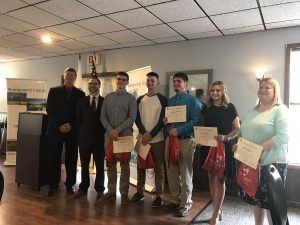 Four FFCS students were recognized at the Third Annual Montgomery County Students and Educator Made of Something Stronger breakfast on May 16.
The event was created to honor the accomplishments of both seniors in high school and educators who have influenced Montgomery County. The breakfast incorporates the county's tagline, "Made of Something Stronger," which celebrates the attributes of strong character, strong work ethic and strong will.
The Made of Something Stronger student nominees from FFCS are seniors who are in good academic standing, well-rounded and give back to schools and communities. They include Myles Andersen, Nathaniel Colletti, Alexys Conti and Joshua Coyne.
The Made of Something Stronger educator nominee from FFCS is Deidre Palmer, who, according to her nomination form, is resourceful, caring, compassionate, prioritizes based on what's important for the individual student, and is able to see the greater goal in relation to what truly matters in education.
We congratulate all of our students and our educator for their hard work and dedication to our school community.