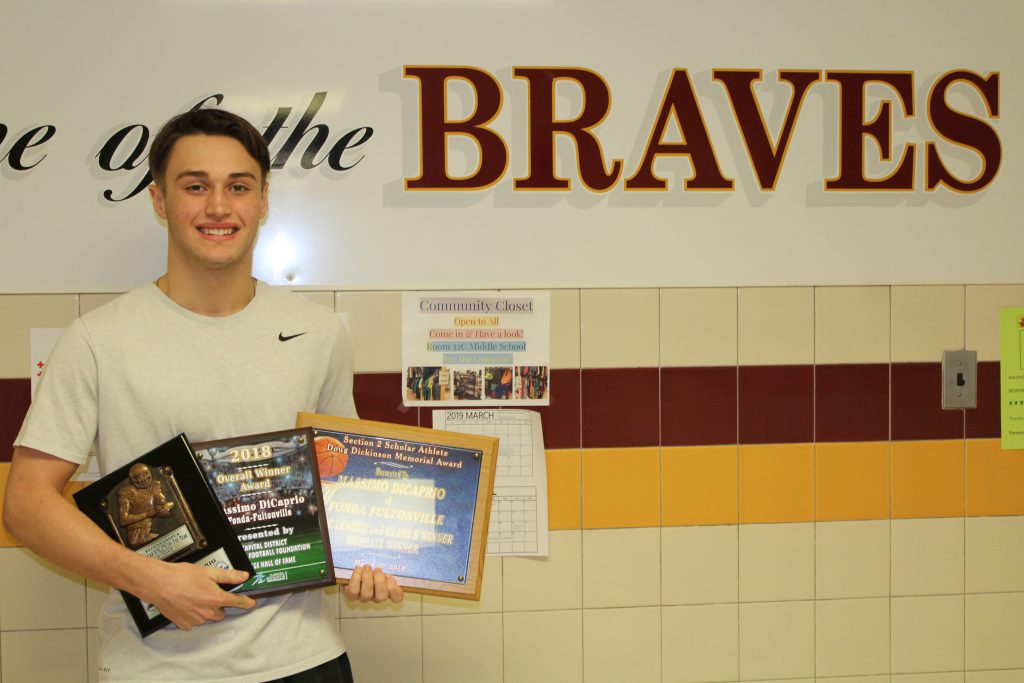 FFHS senior Massimo DiCaprio has received one of the highest achievements in New York State scholarship and athletics. The three-sport athlete earned the 2018 New York State High School Football Coaches Association Class C Scholar Athlete of the Year award.
"From the first time I met Massimo, I knew he was special," FFCS athletics coordinator Eric Wilson said. "He's conscientious, focused and dedicated to everything he does."
The award is presented to a football player who has been nominated by a coach and selected for his or her excellence in academics and athletics.
"It was a total surprise," DiCaprio said. "I didn't think I was going to win it."
Neither did he think he would earn the Section II Scholar Athlete Doug Dickinson Memorial Award for basketball, nor the Capital District National Football Foundation College Hall of Fame award. He was humbled to learn that he had won both.
He was confident, however, that he performed well on the Scholastic Aptitude Test.
DiCaprio scored a perfect 800 on the math portion of the SAT. "Massimo is one of the most exceptional math students I have had in my 35 years of teaching," high school math teacher Donna Stead said. "He is a critical thinker with a strong aptitude in mathematics."
"I like math," DiCaprio said. "Right now I'm in the New Visions: Health Careers program, so I'm thinking about going into a medical field."
DiCaprio plans to attend college in the fall and is considering playing football.