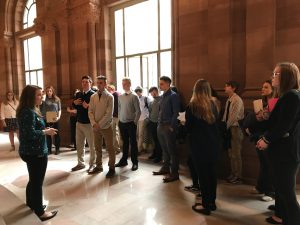 On Wednesday, May 1, the college-level Participation in Government class took a trip to the state capitol in Albany. The purpose was to experience how state government functions first-hand. Kaitlyn Gray expressed her delight for the time spent at the capitol.
"The trip was very informative and made me look at government in a new light," she said.
The students were given a tour of the capitol and many of the different sections found in the extravagant building. They were guided through the chambers of the Senate and the Assembly as well as shown all of the interesting designs and small features of the architecture.
The students were then given the opportunity to ask our representatives questions that were previously prepared. Sen. Amedore and Assemblyman Santabarbara both gave great insight regarding topics on pollution, women's health, special needs students, college tuition costs, and vaping.
"I felt that they took our perspectives into consideration and noticed how our voice matters too," Brianne Egelston said.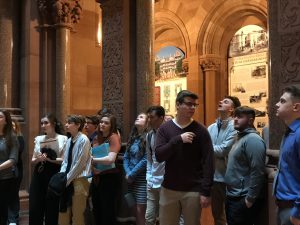 Following these interactions with the representatives, the class ventured to Corning Tower observatory and examined the surrounding area and the city of Albany. They were able to see many different architectural designs in the city.
On the way home from the trip, the class debriefed what occurred throughout the trip.
"The conversation we had was very productive. We all got a chance to share our thoughts about the trip and we heard how our peers felt about it as well," said Brady Myles
In response to this trip, Mrs. Brown said, "The representatives gave us thoughtful responses that were from the heart, rather than giving canned answers. They wanted to be genuine and appreciated your intelligent questions."
This trip was an eye-opening experience for the students, giving them a new view of our state government.
By Students Matt Zumbolo and Josh Coyne