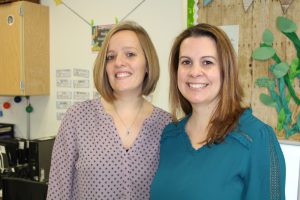 Fonda-Fultonville Central School District proudly announces that elementary school teachers Tanya Chmura and Shelly Shaffer have achieved National Board Certification. It is considered to be the most respected professional certification available in K-12 education.
According to NYSUT, only 3 percent of the national teaching population has achieved this certification. It was designed to develop, retain and recognize accomplished teachers and to generate ongoing improvement in schools nationwide.
Chmura and Shaffer are the fourth and fifth teachers at FFCS to earn the distinction. Chmura is a second grade teacher and Shaffer is a special education teacher. They co-teach a class together.
Both Chmura and Shaffer say that earning national board certification was the ultimate piece of professional development that made them better educators.
"The experience changed my approach on how to more effectively design instruction around my students' strengths, interests and needs," Chmura said. "I've learned that in order to keep up with educational trends and changing needs of students in a digital society, my own learning doesn't stop here. It's ongoing through collaboration with colleagues and searching for new learning opportunities."
"This experience has made me realize that I should always be asking myself why I am doing the things I do in my classroom, and how it is going to  impact my students," Shaffer said. "Not every student is the same and they need to be taught at their level in order to succeed in the classroom."
Often considered the "gold standard" of achievement, national board certification requires teachers to demonstrate standards-based evidence of the positive effect they have on student learning.
This certification, created by teachers, for teachers, represents a consensus among educators about what accomplished teachers should know and be able to do. Board certification is available in 25 certificate areas from prekindergarten through 12th grade.
To achieve national board certification, Chmura and Shaffer each had to complete an extensive portfolio. It is organized around four key components. Teacher candidates must:
Take a computer-based, written test in their content area;
Show examples of how they've tailored instruction to drive individual academic gains;
Submit videos of their classroom teaching with reflections on what did go well and what didn't; and
Provide examples of ways they've used data and school and community resources to improve outcomes for their students.
Chmura has worked as a second grade teacher at FFCS for 17 years. She has been an educator for 20 years. She also taught kindergarten in Dallas, Texas. She has a master's degree in elementary education from Russell Sage College and a bachelor's degree from SUNY Brockport.
Shaffer officially 
began her teaching career at FFCS in 2008, though she had served as a substitute teacher for several years prior. She has taught special education in various classrooms at the elementary school. Shaffer, an FFCS alum, has a master's degree in childhood education and special education from Touro College, a bachelor's degree from SUNY Oneonta and an associate's degree from SUNY Cobleskill. 
Chmura and Shaffer join teachers Ann Mahon and Deidre Palmer with school nurse Nancy Ballerstein as national board-certified staff members at FFCS.