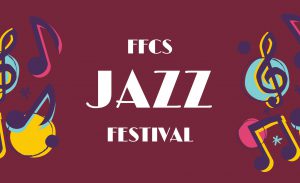 Community members are invited to join FFCS for the 16th annual Jazz Festival in the high school auditorium on Thursday, Feb. 14. The daylong event features 20 bands, and for the first time, a special performance of the Directors Big Band featuring internationally renowned guest artists.
"This is one of only opportunities for the constituents of Montgomery County to experience a full day of jazz," high school band director Chad Lenig said. "This is the first time in our 16-year history that we've had participation of a level that's high enough to have a Directors Big Band. The festival has expanded to include an evening session, which is a great opportunity for the public to enjoy the festival in a more concert-like setting and that's really exciting."
The event features three sessions: a morning session, afternoon session and evening session. Admission to the morning and afternoon sessions is free, and each session will include performances by seven bands. Admission to the evening session is $5 for adults or $3 for students and senior citizens. It will feature performances by six bands, an awards ceremony and the Directors Big Band performance.
The Big Band will include the director of select bands that are performing in the festival, plus the event's four special guest adjudicators: Sherrie Maricle of the Diva Jazz Orchestra on drums, Doug Sertl on trombone, Keith Pray on alto saxophone and Michael Craner, the Schuylerville High School band director.
Schedule
Morning session
8:30 a.m., Fonda-Fultonville Jazz II, Director Chad Lenig
9 a.m., Mayfield High School Jazz Ensemble, Director Noel Wing
9:30 a.m., Oneida High School Jazz Ensemble I, Director Margie Hawthorne
10 a.m., Oneida High School Jazz Ensemble II, Director David Hawthorne
10:30 a.m., Perry Jr. High Jazz Ensemble, Director Dan Fabio
11 a.m., New Hartford High School Jazz Ensemble, Director Marty Hollister
11:30 a.m., OESJ High School Jazz Ensemble, Director DiAnne Mott
Afternoon session
12 noon, Hudson Falls High School Jazz Ensemble, Director Gina Mancini
12:30 p.m., Herkimer High School Jazz Ensemble, Director Terry Gordon
1 p.m., Oneida Middle School Jazz Ensemble, Director Nick Anderalli
1:30 p.m., Fonda-Fultonville Jr. Jazz, Director Greg Kowalczyk
2 p.m., Gloversville High School Jazz Ensemble, Director John Savage
2:30 p.m., Scotia-Glenville High School Jazz Ensemble, Director John Prylo
3 p.m., Sidney High School Jazz Ensemble, Director Gregg Norris
Evening session
5 p.m., Fonda-Fultonville Jazz I, Director Chad Lenig
5:25 p.m., Laurens Academy, Director Michael Banewicz
5:55 p.m., Averill Park High School, Director Michael Blostein
6:25 p.m., Ballston Spa High School, Director Tracy DeRagon
6:55 p.m., Galway High School Jazz Ensemble, Director Gary Barrow
7:25 p.m., LaSalle Institute Jazz Ensemble, Director Kyle Chamberlain
7:55 p.m., Directors Big Band featuring guest artists
8:30 p.m., Awards ceremony