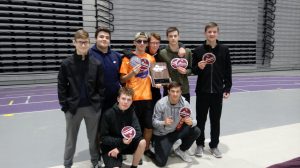 The Boys Indoor Track team capped off a successful 2017-18 season by capturing the Div. IV Sectional Title at the University of Albany on Sunday Feb. 18.
The boy's team scored 80 points to edge Stillwater by two points for the championship. The title is the second championship in three years.
The Braves were led by junior Myles Andersen with a first place finish in the 600m run, and a second place finish in the 300m dash as well as being a member of the second place 1600m relay team.
Other second place finishers include Shane Viscosi, (3200m run- 11:28.21); Anthony Gatto, (pole vault-9' 6"); Myles Andersen, Liam Viscosi, Brady Myles and Eric Hesch (1600m relay-3:59.75); Aidan Zenzen, Liam Viscosi, Trevor Cline and Gatto (3200m relay- 9:27.54).
Chris Yarush picked up a third place finish in the wt. throw with a school record toss of 48' 8.5". Also finishing third for the Braves was Zenzen in the 600m run in a time of 1:32.09. Zenzen also picked up a fourth place in the 1,000m run, Shane Viscosi was fourth in the 1600m run, Carter Petersen finished fourth in the pole vault and Yarush added a fourth place finish in the shot put. Brady Myles picked up a fifth place finish in the triple jump to round out the scoring for the Braves.
The Lady Braves finished third with 74 points, just 1.5 points out of second place. Greenwich ran away with the championship scoring 149 points while Stillwater held on for second place with 75.5 points.
Leading the way for the girl's team were Brittany Castelluccio and Alyson Shirley. Shirley earned a first place finish in the high jump with a jump of 4' 9" in a tie breaker jump off. Castelluccio was a double winner for the Lady Braves winning the long jump (17' 2.25") and the triple jump (35' 8").
Emilia Vardai-Davidson added a second place finish in the long jump (15' 7") and third in the triple jump (32' 7"). Katie Dunham, Haley Clear, Hannah Lewis and Kaitlyn Gray combined for a third place finish in the
3200m relay.
Fourth place finishers for Fonda-Fultonville included Clear (3,000m run); Emma Rhodes, Madison Nichols, Vardai-Davidson and Andrea Casey (800 m relay); Rhodes, Castelluccio, Nichols and Gray (1,600m relay) and Marissa Mycek (high jump).
Other finishers for the Lady Braves were: Rhodes (fifth, 55m HH); Shirley (fifth, long jump and 6 th , 55m HH); Sierra Grant (fifth, wt. throw and sixth, shot put).
Indoor Track teams set records
During the 2017-18 Indoor Track season, the Fonda-Fultonville girls and boys teams combined to set four new records. Two of those records were established this season.
On Sunday, Jan. 7 at Springfield College, Fonda-Fultonville added new records to Braves Track and Field history book. For the first time ever, Section 2 hosted a meet that ran the indoor 200m low hurdles. Since the race has never been run before, any athlete who was their school's top finisher established a school record.
For the Braves, that hurdler was junior Brady Myles. Myles ran the race in a time of 30.74.
For the Lady Braves, Emma Rhodes set the mark at 31.55. Not only did Rhodes establish a school record, but by winning the event, her performance also counts as a Section II record.
On Sunday, Feb. 4 at Springfield College, Brittany Castelluccio broke her own school record in the long jump. Castelluccio won the event with a leap of 17' 9" to eclipse her old record by half an inch.
On the boy's side, Chris Yarush raised his record at the Div. IV Sectionals on Feb. 18 with a throw of 48' 8.5". Yarush finished third in that event.