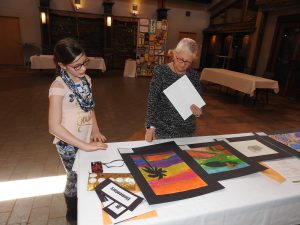 On April 2, eight Fonda-Fultonville students attended the NYS Art Teachers Association Portfolio Adjudication held at the Paul Nigra Center for Creative Arts in Mayfield. Students met with trained adjudicators to discuss their portfolios.
Students who received the highest rating of "Distinguished" for their portfolios were fourth graders Karina DeMallie and Valeria Italiano Placencia, fifth grader Christopher Cimmino, sixth graders Channing Garcia, Caroline Young, and Madison Fonda, and ninth grader Anthony Fonda. Eighth grader Lauren Sisco received the second highest rating of "High Proficient."
Students worked for seven months to prepare their portfolios of five to seven pieces of art under the guidance of art teacher Kathleen Bushek. Each student worked to not only meet the required specifications, but also to elevate their skills and depth of knowledge in their chosen area and media of study.
"As an art teacher, I am very proud of the accomplishment of these students," Bushek said. "The growth in their work really shows. The ratings they have received are a true reflection on the quality of art education at Fonda-Fultonville."