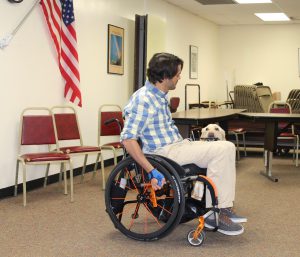 Fonda-Fultonville alumnus Trevor Comeau recently made visits the elementary school to teach students about the importance of service dogs.
Comeau brought his service dog Dray to the school and shared their story with first and second graders.
Comeau graduated from Fonda-Fultonville in 2000, and attended college at SUNY Cortland. In 2010, while on vacation in Jamaica, Comeau suffered a spinal cord injury that left him a quadriplegic. During his recovery, he was introduced to Canine Companions for Independence, an organization that provides assistance dogs free of charge to recipients. Comeau eventually applied for a service dog, and he and Dray graduated together from service dog training in May 2016.
Comeau said Dray helps him physically by picking up things he drops, opening doors, giving his credit card to cashiers, etc. He helps him emotionally, because "nothing cheers you up like a cold nose and wagging tail." And he helps him socially by giving him the ability and confidence to be on his own, and so much more.
"To say he has changed my life is the understatement of the century!" Comeau said.
Comeau read a book to the students called "Raising a Hero." It's about a puppy and the training he had to go through to become a service dog.
"I read 'Raising a Hero' shortly after I graduated with Dray," Comeau said. "It is such a great book for so many reasons. It teaches kids about service dogs, responsibility when raising a dog, as well as caring and giving to those in need. The book was especially interesting to me because, it tells the story of a young boy raising a service dog, and Dray was raised by a 12-year-old girl."
Jamie McRedmond said Comeau's message about acceptance and the role of service dogs is important for younger people.
"As a teacher, you always try to teach your students about acceptance and treating others the way you want to be treated," McRedmond said. "The students also learned that service dogs are true heroes to those that they help on a daily basis."
If you are interested in getting involved with the Canine Companions for Independence, being a volunteer puppy raiser or just learning about the organization, contact Comeau at trevorcomeau@gmail.com.