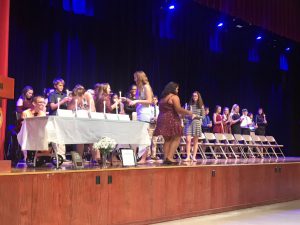 Fonda-Fultonville Middle School is proud to announce that 38 students were inducted into the Arthur B. White Chapter of the National Junior Honor Society. These students were notified of their induction during a candle-lighting ceremony with their teachers during an assembly in late October, and then honored at an induction ceremony with family and friends on Monday, Nov. 5. The inductees are:
Annie Agnes
Dylan Altemus
Emma Bowler
Roger Boyer
Myles Buanno
Nadia Buanno
Ashlyn Butler
Aianna Christman
Matthew Clifford
Ryan Cocker
Jaclyn Codi
Amber Cole
Tyler Couture
Emma Crahan
Jonathan Cranker
Jackson Croucher
Elizabeth Delos
Jenna Downing
Talor Ferrucci
Paige Gerard
Azure Hance
Connor Harding
William Hernigle
Owen Hicks
Morgan Knapik
Quincy Lake
Jillian McLean-Urbanczyk
Madeline Mott
Catherine Myers
Sadie Perry
Landon Rose
Elinor Slezak
Aidan Snow
Kaityln Stearns
Sheridan Taylor
Avary Vainauskas
Augustus Williams
Juliana Zumbolo
The FFCS chapter of the National Junior Honor Society is named in honor of
Arthur White, a former middle school English teacher.